The following entries are posts largely from the front page, relocated, mostly in reverse chronological order of entry, thus the later at the top. Below is a table of contents to assist navigation, where you can click on entries.
———————
A focus on Love

as a task for human beings and the earth evolution ~



Christ and Love
"Three things will last forever—faith, hope, and love—and the greatest of these is love."  (First letter of Paul, 1 Corinthians 13:13)


"A new task and aim I give you: Love one another! As I have loved you, so you should love one another."(Words of Christ, John 13:34)

"Let us love one another, for love is of God, and everyone who loves is born of God and knows God. Anyone who does not love has not recognised God, for God is love."(1 John 4: 7-8)

THE HYMN TO LOVE

Love makes the soul great
Love fills the soul with healing goodness
Love does not know envy,
It knows no boasting,
It does not allow a falseness,
Love does not harm that which is decent,
It drives out self-seeking,
Love does not allow the inner balance to be lost,
It does not bear a grudge,
It does not rejoice over injustice,
It rejoices only in the truth.
Love bears all things,
Is always prepared to have faithful trust,
It may hope for everything and is all-patient.
If love is truly present, it cannot be lost.

(1 Corinthians 13:4-8)
---
A New Story to guide us forward

– reflections by Janice Dolley

It seems that immense changes are afoot, calling us as a global society to shift from the materialistic and separative thinking that has led us to the critical 'code red 'situation that we are in on so many fronts today. As a planetary society this has resulted from a loss of perception of the greater whole of which we are an integral part, our place within a vast cosmos, and the loss of connection with our inner life — the invisible spiritual worlds that invisibly interweave with our everyday lives.

The reality of our daily lives so often consumes all our attention but once we  grasp the reality of the loving creative consciousness that embraces all life – for which every religion has a different name – it is easier to be no longer fearful of the chaos of change that is underway but instead see this as the outer forms of outgrown ideas disintegrating so that new energy can be released to act in ways that better serve the greater whole.

The first step in this shift is the dissolution of the limiting old structures, habits and ways of thinking which is already underway and is causing distress to many. The second step is envisioning and working hard to bring into being new ideas, new visions and the much-needed qualities of love and compassion for all life. In other words, following the universally accepted Golden Rule of "Do unto others that which we would have them do unto you." Our challenge now is to have the wisdom and creativity to use the power of our thoughts and the love of our hearts to begin to co- create new ways of being.

Here are some questions to start our thinking and our discussion with others(1):  Click Here to read more
---
Finding Our Light In the Darkness

  – An article by Kavita Byrd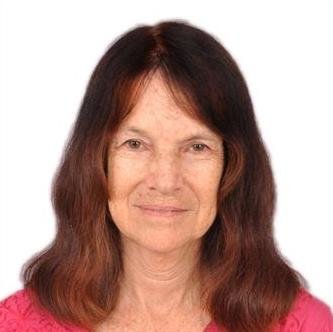 by Kavita Byrd, a member of the Unity Community.
With Our Certainties Collapsing All Around Us,
Where Do We Find Our Strength?
Finding Our Light in the Darkness
As dualities collapse, we have no ground to stand on. Whether we cling to our side for dear life, or straddle both sides, no longer knowing which is true and which is lies – or just give up trying to make sense of it all — either way, we go into free fall, into the no-man's land between certainties, a scary and unnerving place, which goes against our very human craving for security. And yet, if we can take it that way, this same black hole that seems to annihilate all we know, all that we hold onto, can also be the open space where new possibilities can arise — where we can let go the old, melt down and re-invent ourselves, where new realities can blossom…
Click here to read the full article
[for the article as it appeared in the Whole-world-View Summer Solstice Newsletter, click here]
---
BE THE OPEN DOOR FOR THE REMAINING SHIFTS IN 2021
by Patricia Cota-Robles
www.eraofpeace.org
The Company of Heaven never gives us information that may cause concern or fear just for the sake of exposing possible events. The only time the Beings of Light ever reveal information to us that may seem challenging or even ominous is if we have the awareness and the ability to rise above it and to actually help minimize the adverse effects of the situation. This is one of those times.
With the monumental shifts of energy, vibration and consciousness that have taken place within the Earthly experiences of Humanity, the Elemental Kingdom and Mother Earth so far in 2021, the way has been paved for a greatly accelerated purging of our obsolete paradigms. The Beings of Light said this specifically involves the dismantling, the crumbling away and the dissolving of myriad social structures that have manipulated, controlled and suppressed the masses of Humanity for aeons of time.
All of these negative patterns and structures have been held in place through the fear-based consciousness of separation and duality. This distorted level of consciousness manifests through the behavior patterns of greed, corruption, the abuse of power, hatred, ignorance and the willingness to respond with violence. All of which are void of Love.
The fact that these grossly mutated structures which have caused so much pain and suffering for Humanity, the Elemental Kingdom and Mother Earth are now being dismantled at an accelerated pace is actually wonderful news. This is an essential facet of Earth's Ascension process. There is no place for these obsolete paradigms on the New Earth. They must be dismantled and the oppressive energy that has sustained them must be Transmuted into Light in order for the Heart-based patterns for the New Earth to manifest tangibly in our Earthly experiences… [there is more! See below]
Click here for the webpage with the full essay of Patricia Cota-Robles.
    Or click here to view and download a PDF of the same.
---
An inspiration for our inner work in current times…  a ray of hope
"As I have often said – excuse me for repeating myself – the consistent psychical-spiritual work of an individual, or of a few individuals, can have an enormous influence on the spiritual and physical conditions of the world! The emphasis on numbers is not as relevant in the spiritual world as it is on the earth. When someone asks: What can I as one person do to influence world events? – the answer is: everything!
"If people could only see with physical eyes the effect on the macrocosmic context that the decision and its implementation to consistently practise only one meditation by a single person, then probably no one would hesitate to undertake such an exercise themselves. For the possibilities are enormous! Allow me to give you this as the greatest consolation, is the strongest ray of hope in the present situation. The individual person holds the worlds fate in his hands. This is the gift of Christ, who sees the individual 'I' as a deity, who treats it as a deity."
Judith van Halle, from her book, The Coronavirus Pandemic, Temple Lodge Press 2020 (- see further details below)
…And a little but big word of wisdom from two children: a small – true – anecdote
Two children at the breakfast table, one seven the other six…
"Dad, how do you know there are angels?" asked the older child.
Before dad could answer, the youngest replied:
"Well if a blind man walks down the garden path and doesn't see any worms, it doesn't mean there are no worms."
We should pay attention to children!
---
New Book by Kavita Byrd –
Kavita Byrd has just published a new book, a compilation of 25 articles she wrote from lockdown in rural India during the first momentous year of the coronavirus pandemic: Chronicle of a Tectonic Year – Point of No Return, Or Returning to Our True Wholeness? Tracing the pivotal arc of events unfolding during this world-changing time, and responding to them in real-time, Kavita brings a spiritual and holistic perspective to how we can meet our crises with grace, wisdom, love and vision, co-creating a new regenerative world of interconnection, justice, thriving, wholeness and communion. The book is available 
here
, or those affiliated with the OSA can get a free PDF copy by contacting Kavita at kavitaji25@yahoo.com.
Here is an excerpt from the first article:
"There is no going back to normal. Let us be very clear about this, for the writing on the wall is very much so. Either we allow ourselves to be herded into a new totalitarian age, where all our rights and freedoms are taken away, and we are subjected to repeated lockdowns and martial control as further collapses hurtle down the pipeline – or we assert massive resistance to that trajectory and take it into our own power to create another one, based on entirely different values, ones that can actually save us – love, cooperation and caring, simplicity, community, interconnectedness, a sacred reverence for the preciousness of our existence and the whole web of life that sustains us."
---
'The Time is Now' –  by Janice Dolley
It seems that a great shift of the ages is underway and I'm hoping that some of us who have been sensing this and working towards it in different ways can share our insights on both what is happening and what might be ahead.
Here are some of mine. They come from several sources such as my own inner knowing and meditative awareness, several teachings from higher sources through certain people who act as channels and which reach me on the Internet and extra-terrestrial sources passed on by centres of receptivity. So I make no claim that anyone of them are 'the truth' but as they all share many similar messages this resumé might assist your own insights.  We aren't passive observers or recipients of what is underway but are conscious co-creators of a much needed transition to a new world.  Some of us follow one particular teaching or other and some of us are more eclectic and gather from different sources.  My own are underpinned by my Christian background  which, interpreted in a new way, could be perceiving this as the long awaited birth of 'Christ Conscious' within humanity. However there are several possible perceptions and interpretations.
… Click here for full article.
---
'The Last Battle' – a reflection by Janice Dolley
This morning [originally written 31st March 2020] I was drawn to read once again a chapter entitled "Christ and the Adversary Forces" in Sir George Trevelyan's book "A Vision of the Aquarian Age" (republished in 2012 by White Crow Books). I had read this several times before and it was timely to re-read it again today. The present decision to move us into lock-down reminded me of the declaration of war at the start of WW2 and how we are still poised between two adversary forces which are currently playing out very strongly… Click here for full article.
---
The Coronavirus Pandemic –

Anthroposophical Perspectives
by Judith von Halle
What lies at the root of the SARS-CoV-2 virus and the worldwide pandemic it has caused, affecting the health and livelihoods of untold millions of people? What are the deeper, spiritual realities behind COVID-19 and the global turmoil it has left in its trail? In an effort to answer these queries and many others put to her at the start of the pandemic, Judith von Halle composed two letters in March 2020, based on her own spiritual-scientific research, published in this book together with an additional essay.
"As I have often said – excuse me for repeating myself – the consistent psychical-spiritual work of an individual, or of a few individuals, can have an enormous influence on the spiritual and physical conditions of the world! The emphasis on numbers is not as relevant in the spiritual world as it is on the earth. When someone asks: What can I as one person do to influence world events? – the answer is: everything!

"If people could only see with physical eyes the effect on the macrocosmic context that the decision and its implementation to consistently practise only one meditation by a single person, then probably no one would hesitate to undertake such an exercise themselves. For the possibilities are enormous! Allow me to give you this as the greatest consolation, is the strongest ray of hope in the present situation. The individual person holds the worlds fate in his hands. This is the gift of Christ, who sees the individual 'I' as a deity, who treats it as a deity."
Published by and available from Temple Lodge, 2020, www.templelodge.com, or Amazon.
ISBN 978 1  912230 54 9
---
Alternative medical paths – also for Covid?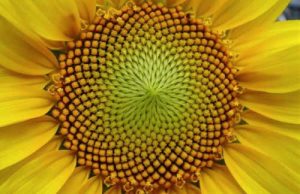 Many who explore spiritual paths are also interested in 'alternative' paths for health and healing, with the primary emphasis on how to maintain health in a holistic way, taking into consideration body, soul and spirit. This rather than the predominant focus of current mainstream allopathic medicine on illnesses, microbes, etc and how we can 'fight' them with medicine, usually from pharmaceuticals. The first approach is also termed 'salutogenesis', the second is 'pathogenesis'.
In the current Covid-19 pandemic, one can be excused for thinking from the mass media publicity that the only approach to fighting and overcoming it is through mass inoculation with vaccines, produced at breakneck speed by many pharmaceuticals – the second approach of pathogenesis. There are alternatives, though, based on more holistic approaches to health and healing…  click here for more (article by Richard Brinton, Feb. 2021)
---
In 2021 Weleda celebrated 100 years —
Weleda has been producing medicines and health care products for 100 years –  in harmony with the environment, based on a holistic philosophy of health and healing. Click on the video below or visit their webpage celebrating their centennial.
---
Johannes Kepler and 400 years Harmonices Mundi
In the summer of 1619, Johannes Kepler (1571-1630) published his significant book, Harmonices Mundi Liberi Quinque, or The Harmony of the World in Five Books. It was an amazing work.
An admirer of Pythagoras for his work on the numerological relationships within music and forms, Kepler was especially keen to focus on the geometry. Since his youth Kepler was on the search for where he could find harmony in the spheres, in the heavenly bodies; for Kepler, this harmony was an expression of God's creation, and if we could prove able to discover and understand this, we would show ourselves also of heavenly origin, communing with the thoughts of God.
"God wanted us to recognise the harmonies, when creating us in his own image, that we could also take part in His own thinking," Kepler expressed…  read more .
---
The December new moon, solstice and the great conjunction – what they offer as challenges and potentials 
Margaret Koolman, astrologer, offers insights and inspirations for the period of the Great Conjunction in December 2020.
For further information and for receiving her newsletter, visit her website:
---
Saturday 30th November, 2019 at Colet House.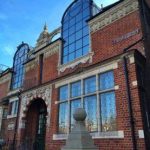 "What is now proved was once only imagined," wrote William Blake. London's greatest modern mystic lent his inspiration to our gathering as around 150 people met in Colet House, London. Organised by the Scientific and Medical Network, generously supported by the Fetzer Institute, and originally conceived by Mark Vernon, we were there to ask how consciousness evolves. We focused, in particular, on the part played by the human imagination… read more
---
The Golden Sufi Centre
From a Newsletter –
July 23, 2019
Dear friends,
As much of the US suffers extreme heat, and New York City declares a climate emergency, are we prepared for the possibility of climate catastrophe? And what does this mean for our future and our shared future with the Earth?
In this new article, Radical Resilience: An Inner Shift, Llewellyn Vaughan-Lee explores the relationship between the immediacy of climate emergency with the long-term values of Spiritual Ecology. What is the future we are facing? Will carbon reduction, renewable energy, and a green economy allow our consumer culture to adapt and continue, or are we facing the end of an era with the possibility of social collapse and radical change? Will climate catastrophe force us to make the shift to real social and climate justice, finally transitioning to a way of life in harmony with the Earth and Her living systems, a state of interbeing?
Please feel free to share with those who might have interest.
With best wishes,
The Golden Sufi Center
www.goldensufi.org
---
The autumn equinox and Michaelmas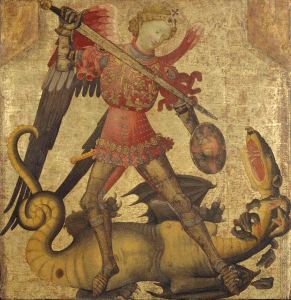 Writing this on a Michaelmas day a few years ago, I reflected on a visit the previous day to Wells in Somerset and the wonderful St. Andrews Cathedral, taking a tour of the cathedral and attending the evensong service. The tour guide spoke of how the church is on the site of two previous churches, dating back to the 8th century, and all were located on the site of a previous pagan holy site. The simple explanation was given that churches were often built on pagan sites so that the pagan people would more naturally turn to the church and the new religion, which in its carvings, for the same reason, even included many depictions of natural or fantastical elemental beings and also Green Man.
That is the simple material explanation. But it is only the later church which recognised little or no truths in the earlier pagan 'beliefs'. Early Christian leaders, up through the times of building the Saxon, Romanesque and Gothic churches and cathedrals, also saw that there were special locations in landscapes that carried special spiritual energies, often at converging ley lines. Building on top of pagan sites was an implicit recognition of this, and people sensitive to these elements relate how energies flow upwards and downwards at these places, often through or near the crossing of the transepts with the nave or at the altar point.
Michaelmas follows on the autumn equinox. From a purely material point of view, the equinox is explainable and understandable even to the 'everyday person': day and night reach equilibrium in length. After that, day becomes shorter and night longer, or vice versa if you live in the southern hemisphere. Simple! Naturally one can go into more astronomical details, but the general picture is easily grasped. Or so it can be at first glance.
Early cultures ascribed much greater significance to these times in earthly and cosmic cycles. What happens at the time of the autumn equinox in our inner soul life? In the northern hemisphere, the darkening days bring an inward turning side, which on the one hand can be an invigorating time for thought life, for studies and the like, the heat of summer passing. On the other hand this turning inward can be a hard time, the inner world perhaps bringing up difficult emotions and turmoil,  replacing the outer distracting joys of warm summer growth and activities. The realities of outer darkness taking hold are strengthened the more one moves towards winter. The equinox was thus a time of seeing outer darkness taking hold, which if not balanced by inner work could become overwhelming. The inner soul life held its breath, as it were, until the winter solstice.
---
Midsummer and St. John's festivals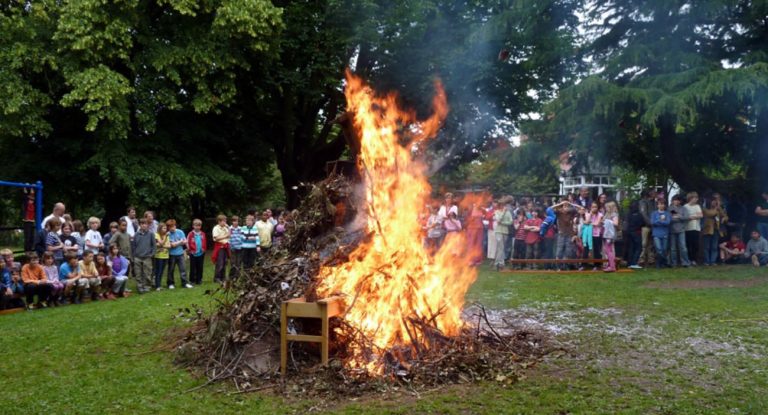 We have reached the summer solstice, and it is now summer! Many celebrations take place. Summer fairs, finally released from the Covid restrictions, will be gathering pace, with some celebrating the St. John's Festival on June 24th.
St. John's is almost a forgotten festival in the calendars. The solstices and the equinoxes are easier to grasp, with their very real relationship to the sun, the earth and the seasons. Is St. John's day merely a names day and commemoration of John the Baptist? In common with Midsummer solstice festivals, the lighting of fires is an important aspect, in recognition of the sun, the sun-spirit, the source of life for nature and all living things.  In earlier centuries the western mystery centres saw deeper meanings in these festival days. In Scandinavia, one ritual was to roll a wheel of fire down a hillside; with others, great fires were lit. What became merely 'tradition' was revitalised by Rudolf Steiner in the St. John's festival, with many communities and Steiner schools celebrating with bonfires and other events, focusing more on St. John's day on 24th June.
Why a few days after the solstice? What is the significance?
---
​
Reflections on Whitsun ~ a festival for our time?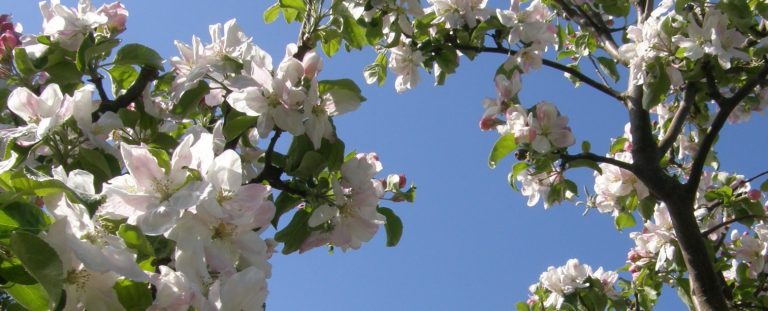 On Whitsun day and Whitmonday and in Whitsuntide, we can ponder on what it means. That the Holy Spirit descended on humankind as a gift from God have become phrases in the church that few have an inkling what is being talked about. Perhaps in our material time we simply cannot comprehend spirit initiated changes in the course of human evolution which have fundamentally changed the course and character of history. We are reminded of the words: 'And the light shineth into the darkness, and the darkness comprehended it not.' (John 1) We are at a critical point, where we have to help the material world comprehend the light again, now as free thinking individuals. The individual tongues of spirit.
Click here for an inspiring excerpt on Whitsun from 'Festivals of the Year', by Roger Druitt (Sophia Books), a Christian Community Priest.
---

Launch of the Albion Project Website
The Albion Project Website had its launch April 2018 at Chalice Well, Glastonbury, a legacy project of the Wrekin Trust. This site explores the essential ideas contained in British spirituality. It acknowledges the central role played by key forerunners and the emergence of many positive forward thinking organisations. You will find links to these projects plus a wonderful directory of forty one sacred sites from Callanish in the north of Scotland to St Michael's Mount in Cornwall. You'll discover stories of legends, myths and histories that combine to illuminate our understanding of the ancient name for Britain, Albion, for when Albion awakes the long sleep will be over. It provides a window into an amazing unfoldment of spiritual wisdom with many links to publications, books, maps and further information.
Click here to visit the new Albion website. Contact them if you would wish to be listed amongst initiatives taking place in the UK.
---
'Easter Bells' – Osterglocken – daffodils
      and an Easter thought ~

Sometimes one wonders where customs around religious festivals originate ~ is there more to it than just something in that religion? Take the Easter egg hunt – perhaps you are having one yourselves this Easter! What is that? Why an egg? A reflection: the egg hunt has a deeper level to it, that goes beyond a religious tradition. What is the egg? It is a very real bringer of new life. From this, it has been a symbol down the ages for creation, or birth, or new-birth. In Ancient Indian mythology, out of a shining golden egg arose heaven and earth. The Persians pictured the world before evil as a huge light-egg. In one Egyptian myth, the first god arose from an egg. In Greek myths of creation, the great Goddess Nyx laid a silver egg, from which came a god with golden wings: Eros, the god of love. In Christian symbolism, the egg is a symbol for the resurrection: new life from an inner golden sun breaks through the hard outer shell, overcoming the confines of the hardened mineral world.
And the egg hunt? A hunt is a journey, an inner journey. Christ's words "seek and ye shall find" have a deep universal wisdom in them. We are seeking for new life, a new inner birth…
Which goes to remind us: We need to think a little out of the box when it comes to religious customs and festivals – many have deeper meanings that transcend borders of faiths, relating to the spirit that weaves and works in all.
---
Mercury in the heights – a planet of relationships
(adapted from an article by Wolfgang Held in 'A tempo', Feb 2019, freely translated from the German)
At the end of February and beginning of March 2019, the position of sun and earth was favourable to view a rare guest in the evening sky, one who most of the time wanders invisibly in the vicinity of the sun: Mercury. Its reached its highest point in the arch at the turning point of the two months (see diagram).
Mercury stands as a counterpoint to the quiet of the other heavenly bodies: the calm procession of the stars, the long graceful interweaving of the other planets through night skies, taking their course through the constellations in seeming independence of the sun's movements. Mercury, in contrast, is only to be seen in the skies of dawn or dusk when no other stars are yet visible, when day and night come together, in the meeting space of landscape and the heavens. It is a planet of relationships.
This quality of mercury can be seen in other physical phenomena. For instance, if we calculate how much larger the diameter of the earth's 12,742 km is to the diameter of mercury's 4,879 km, it is exactly to two decimal places the relationship of the Golden Ratio, or 1.61. This approximate relationship of 5:8 we find everywhere in nature as a universal ratio for growth, from twig segments to buds to pine cones…
There's another interesting number relationship unique to mercury not only in space but in time: Mercury rotates on its axis every 58 days, and needs 88 days to circle the sun. This time it's not in the proportion of the golden ratio but of 2:3, which in music is the relationship the 5th interval. Armin Husemann notes in his book The Harmony of the Human Body: Musical Principles in Human Physiology that this relationship weaves into the structure of the lungs: on the right side there are three, on the left two lobes; the branching of the whole bronchial system is built up on the principle of 2:3. The interval of the fifth is one of harmony and balance, standing half way between the unison and the octave. Breathing is a harmonising and balancing process. Perhaps it's not surprising that in antiquity the planet mercury stood in relationship to the lungs…
While on the topic of breathing, another amazing number relationship: we breathe on average 18 times per minute, with heart beat on average 72 per minute, or four times the rate. If we calculate how many times we breathe within a day's period, we arrive at 25,920… which is the number for the Great Year or Platonic Year – the period in which all the planets and fixed stars complete a cycle and return to a configuration they have occupied before.
There are many, many such wonders in the relationships of the circling heavenly bodies to the structures and processes in nature and the human being. Truly we are all part of one great harmonious picture, with rhythms and relationships mirrored and connected throughout!
---
Kundalini, Awakening of Consciousness & Coronavirus
a video with Catherine Lucas 
This inspiring video considers the theme of death and rebirth, and the process of 'inner resurrection'. But it is also a theme for the whole Corona Virus fear around death, and the need to find the inner strength for a new inner rebirth…
---
What makes a New Year a New Year?
Reflections on deeper meanings behind festival dates
We seldom stop to think about the positions of festivals in the calendar. Are they arbitrary, or does a deeper wisdom play in to the many decisions made in the past on dates for festivals, whether Christian or other? When we explore them further, we often find a hidden depth, there to help people in their inner soul life to sense or find a real relationship to the earthly and cosmic rhythms surrounding us, whether seasonal, planetary or zodiacal. Some are more esoteric or spiritual in nature, as in the part of Epiphany celebration that marks the birth of the Christ in earthly evolution at the baptism by John…
…Relating in real ways to the earthly and cosmic rhythms surrounding is something we have largely lost, but it can become more significant again for us if we renew this in a conscious way. Nurturing these and other rhythms helps bring an inner strength and resilience…
This short article reflects on some of the festivals, especially in relation to the New Year…
…  for the full text, click here.
---

On 3rd November 2019 CANA (www.cana.org.uk) hosted a day event at the Essex Unitarian Church in London on the theme "We are All One". The participative programme demonstrated how what the mystics of all faiths throughout the ages have testified is now being evidenced both by science and also through the well-researched spiritual experience of 78% of people across the world willing to speak about it, now that there is less chance of being scorned. What is emerging is that Oneness is a living reality and that 'consciousness is not something that we have; it is what we and the whole world are.'
"What is emerging is that Oneness is a living reality and that consciousness is not something that we have; it is what we and the whole world are."
There are DVDs available of the presentations and a smaller group will be meeting in London on May 11th  to design a follow-up programme that will be available, with a couple of facilitators, for people to host a programme in their own churches and communities across the UK.
For further information, go the website above, or write to info@cana.org.uk
Watch the mainstream media and it can be hard to believe that humanity is evolving, except perhaps in a spiral of self-destruction, but those reading this newsletter know that another, deeper evolutionary process is taking place. This is the subject of a new web-site and on-line institute co-created by our own Keith Beasley (host of the One Spirit North Wales hub): Conscious Evolution Today combines Keith's insights and experiences in personal growth with a very different set of profound perceptions from partner Chris Thomson (in Catalonia). In form, as well as content, their blog, mentoring and on-line courses provide a deeper, more connected way of 'thinking', help and support for the conscious evolution that we are all part: now is the time to do so consciously! We welcome comments on our blogs, reciprocal links and any opportunity to collaborate with like-minds and kindred spirits . . . for by sharing, on-line as in person, so our energy is multiplied…
---
"The Cosmic Hologram"  – by Jude Currivan
"Our understanding of the Universe is about to transform at all levels, from the tiniest Planck scale to the vast reaches of space. Recent scientific discoveries show that the information that upholds all of our modern technologies is exactly the same as the universal in-formation that underpins, pervades and is all we call physical reality.
"Exploring how information is more fundamental than energy, matter, space, or time, Jude Currivan, Ph.D., examines the latest research across many fields of study and many scales of existence to show how our Universe is in-formed and holographically manifested…  Read more
---
Music and the arts should be a core part of the school curriculum
Nearly every day I hear or read examples of how school children are suffering from the stress of pressurised schooling and high stakes testing, leading to mental health problems. Just recently I heard another personal account, a teenage daughter suffering panic attacks and near mental breakdown from the pressure and stress at school for top marks on A-levels, finally having to take a year out… click here for more                       (article by Richard Brinton)
---
The Wessex Research Group Network Newsletter –
The Wessex Research Group Network puts out a monthly newsletter, with a selection of events from around the UK. Click on the banner above to view a sample and for contact details for putting yourself on their mailing list. See also their website, https://www.wessexresearchgroup.org/, which contains a wealth of information on centres, events, literary resources and more.
---
A new ethos for education –
"Our highest endeavour must be to develop free human beings who are able of themselves to impart purpose and direction to their lives. The need for imagination, a sense of truth, and a feeling of resonsibililty – these three forces are the very nerve of education." (Rudolf Steiner)

"Imagination is more important than knowledge. Knowledge is limited; imagination, however, encompasses the whole universe." (Albert Einstein)
---
Jakob Böhme on the vices of our age…
"Here perchance we begin to see why Böhme said that spiritual people should not be concerned about the vices of their age, nor criticise others, but rather should look inward to their own spiritual practice. For what matters for each of us in the final analysis is not whether we have managed to impose on others our own vision of how the world should be, but rather the degree to which we have reformed ourselves, and become vehicles for spiritual truth and grace."   (from Theosophia, by Arthur Verslius)
---
Human focused education: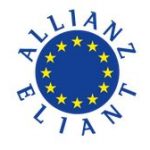 Age-appropriate interaction between head, heart and hand – and technology
Children are being pushed into things too early. By commercialism, by schooling (UK is amongst the only 12% of countries which start schooling with 4 or 5), and, quite simply, by materialism – pushing out their sense of spirituality, wonder and creativity which quite naturally abounds in early years, if we allow it and nurture it. Technology, in the form of smartphones, iPads and electronic games, is pushing its way into childhood quite forcefully, being furthered by state educational policies stipulating computers and iPads/tablets down into nurseries. It is stifling active and creative play, which the children need for their physiological, social and spiritual development.
To see a short video on how it is affecting children's development, see below –
Allianz Eliant is circulating a Europe wide petition for governments, which demands that: Teachers, educators and parents must be able to decide for themselves how long (to what age) an educational institution can remain screen-free. Those responsible for teaching must be able to determine the medium they use, whether they enlist digital media and to what purpose it is put. To achieve this, the right to have screen-free day care institutions, kindergartens and primary schools is essential.
For more information and to sign the petition, click here.
---
There be no secrets!
It seems part of our time that many things come out in the open that people or groups, for reasons of ego or greed, have tried to keep secret. 'The truth will out', as the saying goes, and there seems a particular abundance of such instances in our times. It's almost as if we as human beings are becoming more 'transparent', that our inner thoughts, attitudes and actions are becoming more visible, harder to hide in sheaths of egotism. Perhaps it is all to prod us to raise our selfish egos to a higher level, to one of selflessness, where we are not just serving ourselves but our fellow human beings, mindful of caring for all life around us.
A passage in St. Luke's Gospel comes to mind:
"There is nothing hidden which cannot be revealed, and nothing secret that cannot become known. All that you say in the dark shall be heard in the light, and what you whisper to one another in your own rooms shall be proclaimed loudly from the housetops." (Luke 12:2-3)
But there is also another level to this, not just that ill-thought and ill-begotten secrets will come out, but that the inner light, the spiritual light, wishes to shine and be proclaimed. We need the courage to proclaim the spirit, in our lives and with others. Not in the sense of preaching and proselytising – rather in the sense of having the courage, not being afraid, to speak our convictions, when the spirit moves you, as the Quakers would say.
"No one lights a lamp only to cover it with a vessel or to place it under the bed. Rather, it is put on a stand, so that all who enter may see the light." (Luke 8:16)
May we bring truth, light and peace into our lives and deeds!
---
Miha Pogacnik on creativity and change in business!
Miha stresses the importance of creativity for the future of businesses – in his lively and entertaining way, taking music as an example in this video. Businesses and the economy cannot be simply based on past and present models or knowledge, but need the gift of creativity and imagination for finding successful paths into the future. In the midst of the banking crisis, even some bank managers were suggesting that they needed more art graduates in their midst to help them think outside the box.
"Imagination is more important than knowledge. Knowledge is limited; imagination, however, encompasses the whole universe."    (Albert Einstein)
---
An inspiring talk on 'Depression and spiritual awakening —
two sides of one door' with Lisa Miller
This talk was given at a local TEDx event, produced independently of the TED Conferences. Is depression, as most of us experience it, meaningless suffering? Dr. Lisa Miller presents research that lends meaning to the experience of depression and to our experience on planet Earth. She is Professor and Director of Clinical Psychology at Teachers College, Columbia University, where she founded and currently directs the Spirituality and Mind-Body Institute, to innovate, disseminate, and train healers in foundationally spiritual treatments. Dr. Miller solo-edited the Oxford University Handbook of Psychology and Spirituality (2012) and has published over seventy articles and chapters on spirituality in mental health and wellness.
---
The physical as mirror of the spiritual ~
"Physical processes are the effects of soul-spiritual processes. And where a physical event happens, seemingly as if there was nothing spiritual behind it, we have to be absolutely clear that we simply have not yet recognised the spiritual presence."  (Rudolf Steiner)
---
'Nourishing heart and soul'
at Bella Vista, Swanage
Naomi and William Duffield have set up the new Swanage Retreat centre at Swanage, right on the coast with stunning views. You can go there for your own personal retreat, join Naomi and William in quiet meditation times, or be part of a retreat programme – or all three in one!
For further information click here for our page on Bella Vista
or go to www.swanageretreats.co.uk
---
Spirit of Peace Newsletter 
Spirit of Peace regularly puts out a newsletter, with information on future events and reports on past events. You can receive this by going to their website – click on their link below.
Click here to go to the website!
---
Kosmos – Journal for Global Transformation

from the recent quarterly newsletter –
Editorial | Awake, Awakened, Woke!
In our collective dream, we are racing toward a precipice. Earth's human children have lost their way, propelled by swift currents of mindlessness and greed. The more we struggle against the current and try to cling to passing debris, the more exhaustion and panic we feel. And yet…and yet, we somehow know another reality is still possible, if only we can shift our awareness and change the story.
As in any dream, we will have to confront our own thought-forms and fears, our habits of mind, in order to wake up. We will have to let go and stop struggling, cohere our thoughts, and will ourselves awake.
Many of us believe a collective awakening is possible and happening now. We can point to other great awakenings in our Story…  READ MORE

---
The verses in 'The Calendar of the Soul' were written by Rudolf Steiner for each week of the year (original in German), reflecting the soul experiences we can feel and through which we can inwardly grow in relationship to the time of the year. Through such reflections and meditations on the changing soul experiences through the year, one can develop a deep inner soul connection to the cycle of the seasons.
For the current verses as well as those for other times of the year, go to our Calendar of the Soul page by clicking here.
For the full 52 Calendar of the Soul Verses for each week of the year, including the original German as well as different language translations, go to http://www.calendarofthesoul.net/booklet.asp?Verse=1&Author=
---

Meditatio
Meditatio is a cluster of programs, publications and events that brings the fruits and benefits of meditation to the wider world. It is the outreach of The World Community for Christian Meditation and seeks to bring universal spiritual wisdom and values to bear upon the pressing issues of a secular world.
A Meditatio Council represents this work globally in the fields of Education, Health, Leadership, Social Justice, Science and Technology and InterFaith. Meditatio Seminars and other sponsored events are held internationally and publications in the areas of education, mental health, addiction, medicine, and dying have been produced.
A Meditatio Foundation has been established to help support this work.
For further information about Meditatio visit the pages of this website or contact Laurence Freeman, the Director of Meditatio by emailing Laurence@wccm.org.
---
Meditate for Unity
a non-stop 7 day akhanda meditation practice for unity
This is a weeklong event happening each year in July. Participating groups and individuals choose a 30min slot/s in the meditate for unity calendar. It does not matter where you are in the world or the nature of your faith or tradition. All that is required is committing to meditate for unity in your chosen slot.
2018 was the third year in which Malvern Bhavan organised the meditate for unity 7day akhanda practice.
For further information on the 2018 event, click here or go to http://meditateforunity.com
---
UK marks Third International Day of Yoga, 21st June, 2017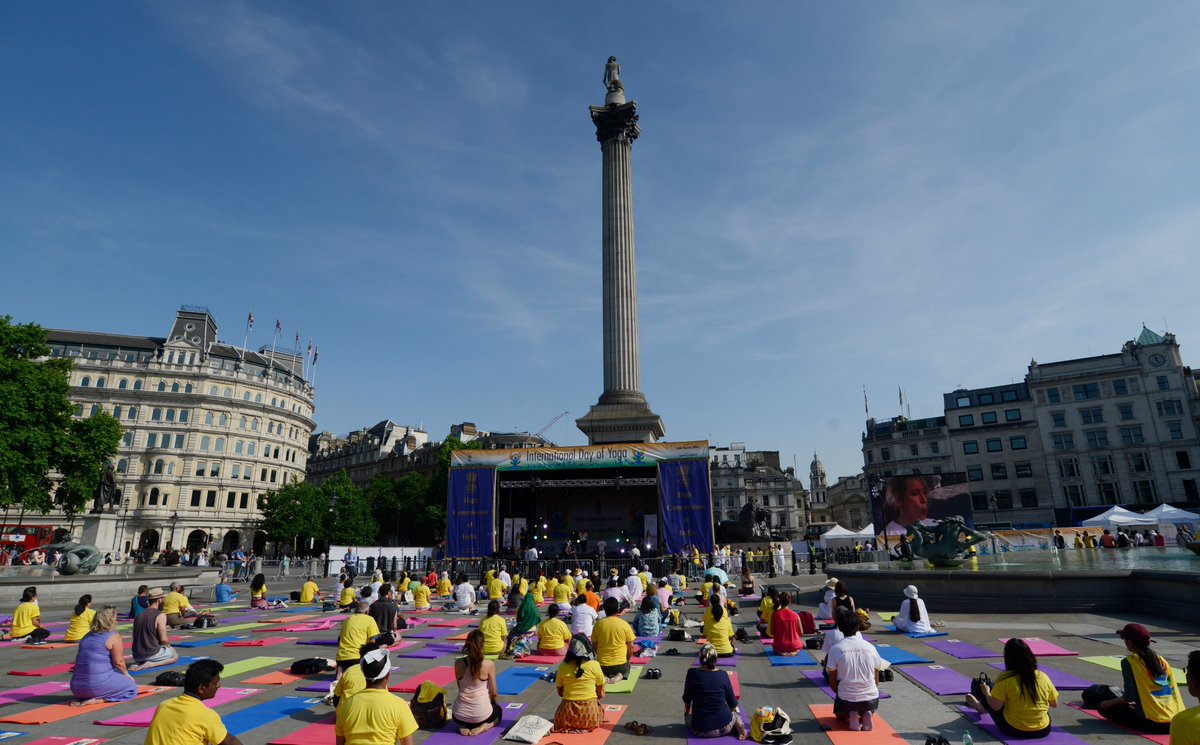 photos of celebrations at Trafalgar Square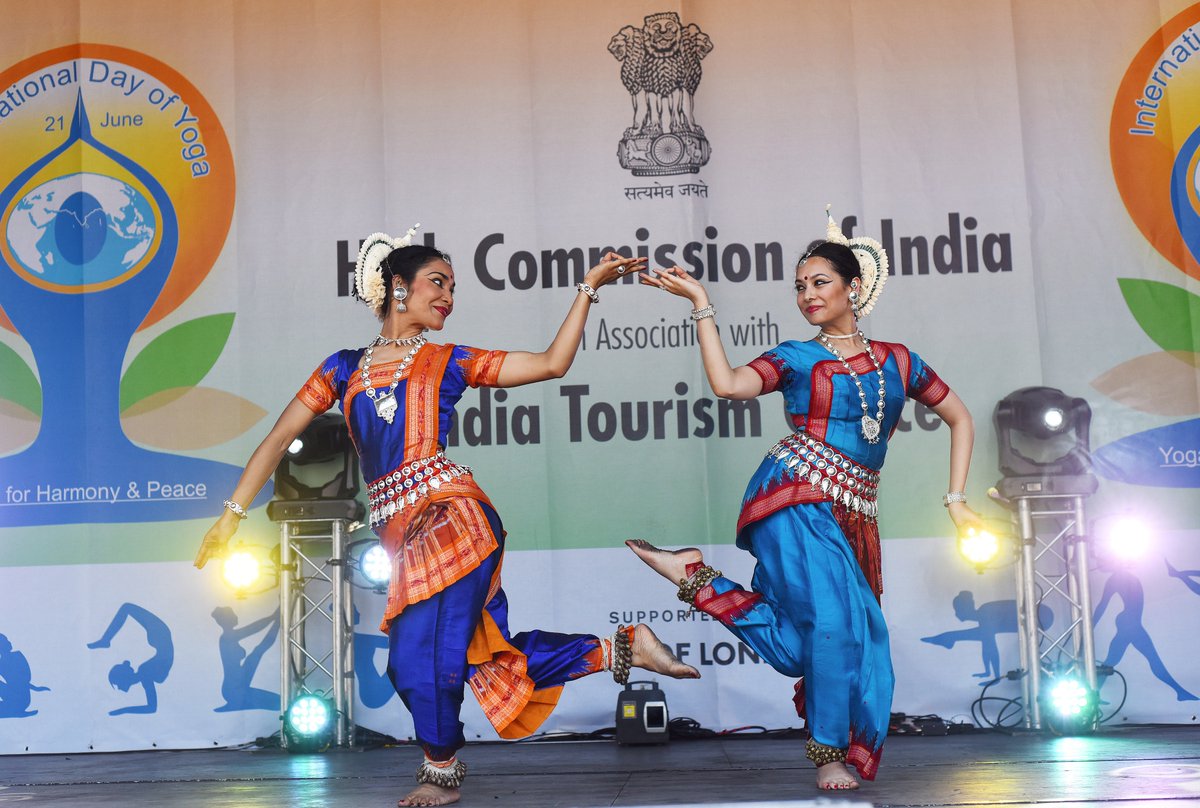 ---
Aurora Gatherings –
places for reconnecting with our authentic essence
Almost 3 years ago some 20 friends of Cygnus came together to explore what they needed most. Above all, they wanted to meet with others of "like-heart" in their neighbourhood to support each other's inner growth, regardless of beliefs and background.  It soon became clear that no existing groups or organisations offered what they were looking for, all seemed to have an agenda of some sort. They wanted  to be able to leave their beliefs and preconditioned thoughts at home and walk into the gatherings for heart to heart conversations. They were clear that having an agenda, with talks or prepared discussion topics, would interfere with their aim of  living in the moment, in the spirit of "Thy Will be done" and surrendering control to the Universal Spirit.
Frankly, Geoff Napier was surprised and doubted that many would be attracted to meetings without a subject, with no goal or preferred outcome. 
Nevertheless a trial meeting was arranged and, to his amazement it was a great success.  There are now about 90 local groups, most of them meeting without agendas, by choice.   They really treasure being with others, watching them grow inwardly, month by month. Geoff Napier is now supporting the non-structured groups under the name of Aurora Gatherings, whether or not they are associated with Cygnus. 
If you would like to find out more about Aurora Gatherings and whether there is a group nearby, contact him at:  Click here to send an email  or call 01285 762 982 for more info, for a growing list of groups visit: www.auroragatherings.com
---
OSA One Spirit Summit 2016
New Story – New Era: Responding together to the call of spirit, Saturday, 17th September
This was a wonderful event, inspiring for the substance that many contributors brought, uplifting for the company of the many like-minded participants attending and the many conversations and interactions that ensued, and enheartening for the generosity of all those who gave towards making the day possible, including especially the hosts, Brahma Kumaris, who provided facilities and delicious lunch and refreshments on a gifting basis. This enabled the One Spirit Alliance to do similarly for all those attending.
Download a transcript of Ursula King's talk: The Rise of the Spirit in an Evolutionary Universe
---
Fireside Gathering
'Cross Currents in Consciousness' – 5-6 December 2015
The weekend retreat at The Abbey in Sutton Courtenay in December was an inspiration and a treat. On Saturday the larger One Spirit Alliance grouping explored through sharing experiences, dialogue and creative work, steps we might take for further collaborative work together. Different themes were discussed in working groups. Especially impressive was the exercise we did together called 'take a petal', in which all participants put suggestions on coloured paper petals for themes and possible speakers for the OSA September 2016 conference as well as how our respective organisations could contribute. The collective sharing was then put together in the form of a flower (see photo).
Sunday was a quiet day for reflection, sharing and meditation, for which The Abbey was a perfect venue, complete with a cosy log fire crackling in the fireplace. It was jointly organised by the One Spirit Alliance and The Abbey. What the day brought home was that the endeavours to bring greater spiritual content to our lives and to society is not simply a matter of 'others' or 'organisations' but of individuals and individual destinies working together.
---
The second annual conference of
The Alister Hardy Religious Experience Research Centre
at the University of Wales Trinity Saint David
This took place on July 3 rd 2015 in the Founders' Library in Lampeter. The topic was the study of Angels. The aim of the day was to highlight how angels
are perceived in different traditions and how we study them in different academic approaches.
Science, Religion and Spirituality: Moving towards a Post-Materialist Paradigm?
This joint AHSSSE / SMN conference took place on Saturday 27th June 2015 in Oxford. Speakers were Prof. Bernard Carr and Revd. Prof. Jeff Astley.
The Manifesto for a Post-Materialist Science includes a reference to "…the need to take into consideration spiritual experience": how might current data and thinking contribute to change in the current materialist paradigm? The day will include a dialogue between the two speakers, with contribution from the floor.
Prof Bernard Carr is Professor in Mathematics and Astronomy at Queen Mary University of London, Vice-President of the SPR and Chair of the SMN.
Prof Jeff Astley is Honorary Professor in the Department of Theology and Religion, Durham University and a visiting professor at Glyndwr University and York St John University.
---
 Green Spirit

The Universe Story Event
The science from the origin of the Universe
to the present day – and its meaning ~
This was a collaborative day, supported by the One Spirit Alliance
---
What are the needs of our time – and
how can we best respond?
This One Spirit Alliance gathering in November 2014 at The Abbey, Sutton Courtenay explored the new challenges facing spiritual organisations in a fast-changing world and considered whether our current responses are adequate.
The aim of the day was to promote greater awareness and understanding between participating organisations. Sharing experiences and conversing on the key issues we all face is enriching and enlivening. This idea took the tangible form of an interconnecting hexagon pattern. Each organisation wrote their main intentions on one side of the hexagon and the name of the organisation on the other. Without knowing the identity of each organisation we were invited to situate our hexagon next to other hexagons of organisations who resonated with our own principles. This form created a dialogue of interconnection and support and is ever expanding
 I know that another world is possible. At times I can almost hear her breathing( Arudhati Roy)
 Sometimes people say we have to do more than preach to the choir but part of our work is helping the choir to find each other. There is a very beautiful song to be sung on this planet when we all connect our streams to one another , and the potential of the amplification for what can happen on this Earth is magnificent ( David Nicol .)
Spirituality is a state of connectedness to life. It is an experience of being, belonging and caring. It is sensitivity and compassion, joy and hope. It is the harmony between the innermost life and the outer life, or the life of the world and life universal.( U Thant. )
Sometimes people say we have to do more than preach to the choir but part of our work is helping the choir to find each other. There is a very beautiful song to be sung on this planet when we all connect our streams to one another , and the potential of the amplification for what can happen on this Earth is magnificent ( David Nicol .)
 Spirituality is a state of connectedness to life. It is an experience of being, belonging and caring. It is sensitivity and compassion, joy and hope. It is the harmony between the innermost life and the outer life, or the life of the world and life universal.( U Thant. )
---
Founder of The Free Spirit Network participates in the Festival Alouane Doukkala, Morocco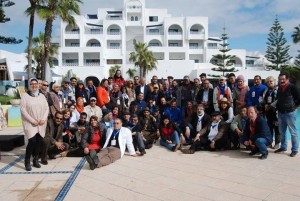 ---
The New Story Summit
 The New Story Hub is a resource centre for anyone interested in the huge transitional task we face as a global community. Inspired by the sold-out
New Story Summit at the Findhorn Foundation
, we hope this site will become a valuable resource for New Story Seekers worldwide and support the practical implementation of radical change. We invite you to participate and to help us accelerate our collective understanding of what might be, what is emerging and what must change, both in us and in the Human Story.
http://newstoryhub.com/
---
One Spirit Alliance Conference
'Spirit in Action'
28th June 2014

at Colet House, London
The day aimed to honour the unique contribution each individual and organisation has to make whilst recognising that by working together collaboratively we are all enriched and strengthened.
Speakers on the day were
Anthony Russell author of Evolving the spirit- from Democracy to Peace
Serge Beddington-Behrens author of Awakening the Universal Heart
---
Towards an Age of Light
Perhaps the most significant symbol presaging a new Age of Light in human life is the laser.  It is no surprise that such a powerful tool has the potential for both creative and destructive uses, for light can blind as well as illuminate. As ever the responsibility for right use lies within human hands…….
What gives the laser its peculiar potency?  Everyone knows that the light from a laser is of only one colour and that this light can be projected as a very narrow beam.  What is probably less understood is that these two qualities are different aspects of the key characteristic namely coherence.  In simple terms this means that each individual waveform of light, each photon, is 'in step' with all others like soldiers marching in close formation.  This gives the light its extraordinary purity, intensity and power of projection.  An interesting analogy could be made with the mind of a trained mediator which can penetrate into previously unknown realms of consciousness.  Another analogy which is particularly instructive as we move into an age where group consciousness is increasingly the norm is between coherence and two of the principles identified by the esoteric philosophy as essential to our times, namely the principles of unanimity and essential divinity.
How do these principles operate in a group?  In the case of unanimity we could say that it is where a group is consciously striving to find the highest common point of agreement on a specific course of action.  This distinguishes from the much maligned 'groupthink' where people agree with whatever others think in order to minimise conflict.  Instead those striving for unanimity intend to seek the harmony that lies beyond conflict by critically assessing all ideas without attaching any importance to their source.  It is only by removing the strictly personal dimension that the underlying quality of ideas can be properly weighed and the resonance of the highest common point of agreement can begin to emerge, subtly building in strength as the group senses it with increasing clarity.  The principle of essential divinity works in a similar way as members of a group from different spiritual traditions gradually recognise the essential qualities of Spirit common to their specific faiths allowing them to participate in a shared approach to the source of all Light and Love however it is labelled.
Excerpt form World Goodwill Newsletter 2014.No2
NB  the United Nations declared 2015 the International Year of Light.