The One Spirit Alliance works to promote and provide a forum for spiritually-minded people, organisations and networks to foster connection and collaboration between them.
Our vision
The One Spirit Alliance is founded on a recognition of the One Spirit that underpins all life.  This One Spirit inspires a shared consciousness that takes us beyond all established boundaries. It is underpinned by values and principles that ignite our love for each other and foster care and appreciation of our planetary home and its place in the cosmos. This awareness has grown out of meditation, individual and collective spiritual experience and new approaches to science which have lead to a realisation of the greater whole.
The vision of One Spirit Alliance is to facilitate the coming together of the diverse spiritual paths which draw on a variety of faith, ethical and ecological traditions as well as new explorations. By engaging in conscious conversations and shared silence we can discover the unity that lies at the heart of all paths that seek a harmonious way of life. We believe in the principle of one global family. For more on the background of OSA, click on <About OSA>.
"Who seeks for heaven alone to save his soul
May keep the path, but will not reach the goal;
While he who walks in love may wander far,
Yet God will bring him where the blessed are."
Henry Van Dyke
"What lies behind us and what lies before us are tiny matters
compared to what lies within us."
Ralph Waldo Emerson
Forgive! It is a shock indeed
Entering souls that in their need
Cling to matter with all their might
And for the spirit have no sight.
Johann Wolfgang von Goethe
---
Some highlights! (a mini-directory)

See our Facebook page! https://www.facebook.com/onespiritalliance/ where we put  regular postings about groups, events and inspirations which people have sent in. If you have something which you would like posted, let us know! Send to our email: contact@onespiritalliance.net or send a message via Facebook. We look forward to hearing.
In the Journal – find short articles and inspirations from present and past contributions. 
Articles and reports – 
The autumn equinox and Michaelmas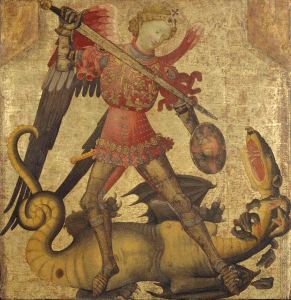 Writing this on a Michaelmas day, in 2019, I reflected at the time on a visit the previous day to Wells in Somerset and the wonderful St. Andrews Cathedral, taking a tour of the cathedral and attending the evensong service. The tour guide spoke of how the church is on the site of two previous churches, dating back to the 8th century, and all were located on the site of a previous pagan holy site. The simple explanation was given that churches were often built on pagan sites so that the pagan people would more naturally turn to the church and the new religion, which in its carvings, for the same reason, even included many depictions of natural or fantastical elemental beings and also Green Man.
That is the simple material explanation. But it is only the later church which recognised little or no truths in the earlier pagan 'beliefs'. Early Christian leaders, up through the times of building the Saxon, Romanesque and Gothic churches and cathedrals, also saw that there were special locations in landscapes that carried special spiritual energies, often at converging ley lines. Building on top of pagan sites was an implicit recognition of this, and people sensitive to these elements relate how energies flow upwards and downwards at these places, often through or near the crossing of the transepts with the nave or at the altar point.
Michaelmas follows on the autumn equinox. From a purely material point of view, the equinox is explainable and understandable even to the 'everyday person': day and night reach equilibrium in length. After that, day becomes shorter and night longer, or vice versa if you live in the southern hemisphere. Simple! Naturally one can go into more astronomical details, but the general picture is easily grasped. Or so it can be at first glance.
Early cultures ascribed much greater significance to these times in earthly and cosmic cycles. What happens at the time of the autumn equinox in our inner soul life? In the northern hemisphere, the darkening days bring an inward turning side, which on the one hand can be an invigorating time for thought life, for studies and the like, the heat of summer passing. On the other hand this turning inward can be a hard time, the inner world perhaps bringing up difficult emotions and turmoil,  replacing the outer distracting joys of warm summer growth and activities. The realities of outer darkness taking hold are strengthened the more one moves towards winter. The equinox was thus a time of seeing outer darkness taking hold, which if not balanced by inner work could become overwhelming. The inner soul life held its breath, as it were, until the winter solstice.
The Christian festival of Michaelmas builds on this, just as the churches built on the pagan sites. But it is not as easily grasped as the explanation of the equinox and even of the potential inner experiences as we move into the darkness. It takes more inner work…
more… (click here)
——————–
'The Last Battle' – a reflection by Janice Dolley
This morning [originally written 31st March 2020] I was drawn to read once again a chapter entitled "Christ and the Adversary Forces" in Sir George Trevelyan's book "A Vision of the Aquarian Age" (republished in 2012 by White Crow Books). I had read this several times before and it was timely to re-read it again today. The present decision to move us into lock-down reminded me of the declaration of war at the start of WW2 and how we are still poised between two adversary forces which are currently playing out very strongly… Click here for full article.
———————
Kundalini, Awakening of Consciousness & Coronavirus
A highly recommended new video from Catherine Lucas. It considers the theme of death and rebirth, and the process of 'inner resurrection'. But it is also a theme for the whole Corona Virus fear around death, and the need to find the inner strength for a new inner rebirth. She adds, "it's a wake-up call…" – in many ways. Catherine adds "we really must make sure we don't go back to business as usual after this crisis." Because there are things to learn from it – not just outwardly e.g. in the statistics around illnesses, deaths, and the ill-health of many people affected, but socially in the discovery of how essential community and interactions are, and inwardly , spiritually, in how we work with this theme of death. "It's very much up to us to take this opportunity and make the most of it."
Do have a listen. It is inspiring. Click here or scroll down to the video below: https://youtu.be/sSF786ALGGs 
———————-
(Click on the heading above for a compilation of articles on education.)
---
> Do you have a report to share? <<
on an event or initiative of yours or which you have been involved in?
Send us an email, and any attachments (e.g. write-ups, pictures)
---
The Calendar of the Soul verses, written by Rudolf Steiner for each week of the year, reflect the soul experiences we can feel and through which we can inwardly grow in relationship to the time of the year. They help to nurture and inspire a deeper connection and feeling for the rhythms of nature and our relationship to them.
---
Drawing Stability and Nourishment from Within
    Northeastern Alumni
634 subscribers
In a world where very little can be truly relied on, it's hard to know where to turn for a sense of solid ground beneath our feet. Perhaps the 'new normal' is to accept that the ground we stand on constantly shifts as we learn new ways to keep our balance. With practice, we can learn to draw on stability from within ourselves, and through inner strength become our own still point in a turning world, finding the nourishment needed to ensure we have the stamina to keep moving towards our goals.
This session will feature an interactive panel of Raja Yoga Meditation practitioners who will discuss how to find inner strength and stability balancing your personal and professional lives and lead a short meditation at the end of the event.
---
Newly published, May 2020! –
Awakening to a New Reality – 
Conscious Conversations across the Horizon of Death
by Janice Dolley, with Ursula Burton
Awakening to a New Reality: Conscious Conversations across the Horizon of Death is the title of a newly published book by OSA  co-worker , Janice Dolley. These conversations are a personal example of what researchers are now calling 'After Death Communication' (ADC). Janice's best friend and previous co-author Ursula, Lady Burton, passed on in 1993. To Janice's surprise their new connection began only three hours after her death. read further…
The book is available through Sleepy Lion Publishing (click here).
---
Kundalini, Awakening of Consciousness & Coronavirus
a video with Catherine Lucas 
Kundalini, Awakening of Consciousness & Coronavirus
---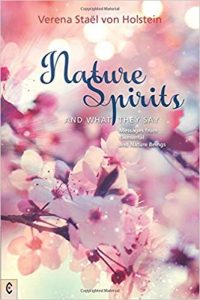 (A short extract from the book, Nature Spirits and What they Say: Interviews with Verena Stael von Holstein, new edition Nov 2019, Floris Books)
WW (the interviewer): Can you describe what the most urgent tasks for humans in the immediate future will be?
The High One (an elemental):  Act!
WW: There are lots of things one can do. Can you be a bit more specific?
The High One: Do what your heart tells you!
WW: That says something different to each human.
The High One: Humans have to begin to perceive the elemental beings and the spirit beings and act with them in the same direction. Otherwise the earth will disintegrate… Humans have to learn what beauty is. They have to learn not to just simply act and produce any kind of objects, but that everything has to be beautifully formed.
WW: What's most important for the personal development of humans in the immediate future?
The High One: Raise your children in beauty and they'll find their way in life.
---
Thoughts on the 'Future Generations Commissioner' in Wales
The recent issue of Positive News (https://www.positive.news/) reports on the Welsh post of 'Future Generations Commissioner for Wales'. It was created by the Welsh 'Well-being of Future Generations Act 2015'. How many outside of Wales have even heard of it? That's probably because it is unique, the only country in the world to have such. As the Positive News article explains: 'The trailblazing legislation requires all Welsh public bodies to ensure that he decisions they make today ensure that the decisions they make today don't compromise the Welsh citizens tomorrow.'
There is something very spiritual inherent in this thinking. So much of our thinking and actions nowadays is oriented around the past. We do something because 'that's the way it has always been done', built up over past habits, wishes. Papers are full of politics, and we certainly there see how steeped so many politicians are in maintaining the past. While we need to learn lessons from the past, are we caught in the past? But this question has to really be asked by each of us: If we really press our ourselves, in inner reflection, we might realise that much of our thinking as well as emotional reactions are based on the past, on our personality which we have built up over the years, which in turn forms so much of our quick judgements. Are we truly open minded to something new? We are often hesitant, even fearful, to think and do something that hasn't been done before. It takes also a quality of selflessness. Yet this is the inner path: learning to let go of the dictates of the past, inwards and outwardly, so that we may live truly into the present and what the future really needs…
Food for our current thoughts, and much strength and success to the Future Generations Commissioner for Wales! May other countries take the example of Wales in building some of this thinking into legislative processes!
"As it is very beneficial for health, I have decided to be happy."  (Voltaire)
---
This school year, 2019-2020, marks the 100th anniversary of the Steiner Waldorf Schools – a school movement with well over a thousand schools in over 60 countries world-wide, on all continents. Rudolf Steiner (1861-1925), a pioneer in bringing spiritual insights into all areas of learning, whether sciences, humanities or arts, held that a new holistic education with a foundation in the physical, soul and spiritual development of the child, rather than on what adults wanted for economic outcomes (which was already strongly in place since Victorian times) was essential for fostering creative and free-thinking individuals. This, he saw, was in turn essential for the challenges that humankind would face on in to the future. And the greatest challenges he foresaw would be at the turn of the century ahead, that is, NOW!
"Receive the children in reverence, educate them in love, and send them forth in freedom." (R. Steiner)
The Steiner Waldorf schools over the past century (called simply Waldorf Schools in most countries outside the UK, after the founding school in Stuttgart) have been appreciated by innumerable parents, some who with spiritually minded orientation  are looking for an education which acknowledges and nurtures a spiritual core in the child rather than squelching it, others who are simply with a view that childhood is being burdened with too many adult pressures, from repeated mechanistic testing to influences of commercial interests – that childhood was in danger of being lost.
The schools continue to spread and thrive, more so interestingly outside of the UK, and especially in Asian, African and South American countries. They come in many sizes and forms, and its principles have influenced also state education in many countries. In England, they have come under more pressure from a more mechanistic government led educational approach, reinforced by Ofsted, testing and scores (statistics!) playing a major part – that is another story! But it emphasises the need not only to celebrate its achievements but to press all the more in all educational circles for a holistic approach to education, one which nurtures not just a one-sided intellect, but head, heart and hands, as a unified whole. See also (click here for) the Facebook Waldorf 100 site to follow celebrations around the world.
Below is a link to an inspiring video on Waldorf 100 years. Click here to go to our own Waldorf 100 page, which we will be adding to over the months, where you will find further video links and information.
---
DATES FOR YOUR DIARY
Click here to view our Privacy Policy.
---
Launch of The Divided Brain film (trailer below) – 

Psychiatrist Dr. lain McGilchrist tests a radical theory with the potential to explain the problems of Western society: that the left brain hemisphere is taking power, and we're feeding it. The left hemisphere is proficient at technologies and systems but cannot understand larger implications. Has the left hemisphere hijacked humanity?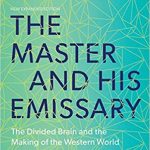 This film, launched early this year, follows on from McGilchrist's book, The Master and His Emissary, published several years ago, in which he sets out his theory of how the right side of the brain, carrier of imagination, innovation and creative thoughts and emotions, and which should be the master, has been hijacked by the left side of the brain. This has brought about the many ills we are witnessing in western society.
An interview with Dr. lain McGilchrist on the occasion of the Scottish Premiere of The Divided Brain can be watched at this link:
---
---
Science and Spiritual Practices 

by Rupert Sheldrake
This book, first published in 2017 in hardback edition, is now out in softback! Well known for his book, The Science Delusion, Sheldrake takes the topic further in this new book, Science and Spiritual Practices, exploring how spiritual practices are now being investigated scientifically by many.
Rupert Sheldrake summarizes the latest scientific research on what happens when we take part in spiritual practices, and suggests ways that readers can explore these fields for themselves. For those who are religious, Science and Spiritual Practices will illuminate the evolutionary origins of their own traditions and give a new appreciation of their power. For the non-religious, this book will show how the core practices of spirituality are accessible to all, even if they do not subscribe to a religious belief system.
For a YouTube video interview with Sheldrake about his book, see https://www.youtube.com/watch?v=vBhpfETrRuw
---
The Biology of Belief

Some 10 years ago, Bruce Lipton came out with his groundbreaking book, The Biology of Belief. As with Rupert Sheldrake's books (see above) or Eben Alexander's book, Proof of Heaven, it especially shook scientists, as here were scientists themselves, not just some spiritually minded mystics, challenging materialistic views of the prevailing science of today and showing how we can apply scientific thoughts and methods to spiritual matters.
New clips keep appearing of Bruce Lipton on the themes of his book, delightful and provocative on various themes. This clipping here appeared on YouTube recently. Enjoy!
---
Other initiatives which may be of interest to you:


Introducing the school of Intuitive Herbalism ~
for more information see our Places, People and Events page