A new ethos for education –

  "Our highest endeavour must be to develop free human beings who are able of themselves to impart purpose and direction to their lives. The need for imagination, a sense of truth, and a feeling of resonsibililty – these three forces are the very nerve of education."   (Rudolf Steiner)
---
Music and the arts should be a core part of the school curriculum
Nearly every day I hear or read examples of how school children are suffering from the stress of pressurised schooling and high stakes testing, leading to mental health problems. Just recently I heard another personal account, a teenage daughter suffering panic attacks and near mental breakdown from the pressure and stress at school for top marks on A-levels, finally having to take a year out… click here for more                       (article by Richard Brinton)
---
Jakob Böhme on the vices of our age…
"Here perchance we begin to see why Böhme said that spiritual people should not be concerned about the vices of their age, nor criticise others, but rather should look inward to their own spiritual practice. For what matters for each of us in the final analysis is not whether we have managed to impose on others our own vision of how the world should be, but rather the degree to which we have reformed ourselves, and become vehicles for spiritual truth and grace."   (from Theosophia, by Arthur Verslius)
---
There be no secrets!
It seems part of our time that many things come out in the open that people or groups, for reasons of ego or greed, have tried to keep secret. 'The truth will out', as the saying goes, and there seems a particular abundance of such instances in our times. It's almost as if we as human beings are becoming more 'transparent', that our inner thoughts, attitudes and actions are becoming more visible, harder to hide in sheaths of egotism. Perhaps it is all to prod us to raise our selfish egos to a higher level, to one of selflessness, where we are not just serving ourselves but our fellow human beings, mindful of caring for all life around us.
A passage in St. Luke's Gospel comes to mind:
"There is nothing hidden which cannot be revealed, and nothing secret that cannot become known. All that you say in the dark shall be heard in the light, and what you whisper to one another in your own rooms shall be proclaimed loudly from the housetops." (Luke 12:2-3)
But there is also another level to this, not just that ill-thought and ill-begotten secrets will come out, but that the inner light, the spiritual light, wishes to shine and be proclaimed. We need the courage to proclaim the spirit, in our lives and with others. Not in the sense of preaching and proselytising – rather in the sense of having the courage, not being afraid, to speak our convictions, when the spirit moves you, as the Quakers would say.
"No one lights a lamp only to cover it with a vessel or to place it under the bed. Rather, it is put on a stand, so that all who enter may see the light." (Luke 8:16)
May the year bring truth, light and peace!
---
The 41st annual Mystics and Scientists conference
of the Scientific and Medical Network…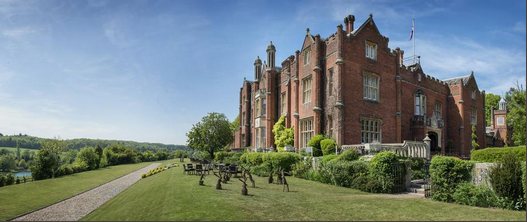 'Eastern and Western Perspectives on Science and Spirit'
took place at the Latimer Estate near Chesham
6th – 8th April
The theme this year revisited the broad relationship of science and spirit from both Eastern and Western perspectives. Speakers brought together world views from biology, philosophy, psychology, religious studies, music, art and spirituality, addressing the theme from their various angles of expertise. Speakers included Dr Bhakti Vijnana Muni, Dr Bhakti Niskama Shanta, Prof Ursula King, Prof Keith Ward, FBA, Catherine Thom, and Dr Joan Walton. Chaired by Dr. Peter Fenwick and David Lorimer.
For further information on the Scientific and Medical Network, click here.
---

Living Spirituality Connections (LSC) is a hub for creative ways of exploring spirituality. It is at the interface between traditional Christian faith and practice and newly emerging expressions of spirituality. LSC is a resource through which people can find material, groups and people to help deepen their explorations. They produce a quarterly newsletter, for instance click here.
For more information, click here or on the logo above!
---
'Easter Bells' – Osterglocken – daffodils
      and an Easter thought ~

Sometimes one wonders where customs around religious festivals originate ~ is there more to it than just something in that religion? Take the Easter egg hunt – perhaps you had one yourselves this past Easter ! What is that? Why an egg? A reflection: the egg hunt has a deeper level to it, that goes beyond a religious tradition. What is the egg? It is a very real symbol of new life. And the egg hunt? A hunt is a journey, an inner journey. Christ's words "seek and ye shall find" have a deep universal wisdom in them. We are seeking for new life, a new inner birth…
Which goes to remind us: We need to think a little out of the box when it comes to religious customs and festivals – many have deeper meanings that transcend borders of faiths, relating to the spirit that weaves and works in all.
---
'Nourishing heart and soul'
at Bella Vista, Swanage
Naomi and William Duffield have set up the new Swanage Retreat centre at Swanage, right on the coast with stunning views. You can go there for your own personal retreat, join Naomi and William in quiet meditation times, or be part of a retreat programme – or all three in one!
For further information click here for our page on Bella Vista
or go to www.swanageretreats.co.uk
---
Spirit of Peace Newsletter 
The new Spirit of Peace newsletter is out, with information on future events and reports on past events.
Click here to view it in your browser!
---
Kosmos – Journal for Global Transformation

from the recent quarterly newsletter –
Editorial | Awake, Awakened, Woke!
In our collective dream, we are racing toward a precipice. Earth's human children have lost their way, propelled by swift currents of mindlessness and greed. The more we struggle against the current and try to cling to passing debris, the more exhaustion and panic we feel. And yet…and yet, we somehow know another reality is still possible, if only we can shift our awareness and change the story.
As in any dream, we will have to confront our own thought-forms and fears, our habits of mind, in order to wake up. We will have to let go and stop struggling, cohere our thoughts, and will ourselves awake.
Many of us believe a collective awakening is possible and happening now. We can point to other great awakenings in our Story…  READ MORE

---
The verses in 'The Calendar of the Soul' were written by Rudolf Steiner for each week of the year (original in German), reflecting the soul experiences we can feel and through which we can inwardly grow in relationship to the time of the year. Through such reflections and meditations on the changing soul experiences through the year, one can develop a deep inner soul connection to the cycle of the seasons.
For the current verses as well as those for other times of the year, go to our Calendar of the Soul page by clicking here.
For the full 52 Calendar of the Soul Verses for each week of the year, including the original German as well as different language translations, go to http://www.calendarofthesoul.net/booklet.asp?Verse=1&Author=
---

Meditatio is a cluster of programs, publications and events that brings the fruits and benefits of meditation to the wider world. It is the outreach of The World Community for Christian Meditation and seeks to bring universal spiritual wisdom and values to bear upon the pressing issues of a secular world.
A Meditatio Council represents this work globally in the fields of Education, Health, Leadership, Social Justice, Science and Technology and InterFaith. Meditatio Seminars and other sponsored events are held internationally and publications in the areas of education, mental health, addiction, medicine, and dying have been produced.
A Meditatio Foundation has been established to help support this work.
For further information about Meditatio visit the pages of this website or contact Laurence Freeman, the Director of Meditatio by emailing Laurence@wccm.org.
---
UK marks Third International Day of Yoga, 21st June, 2017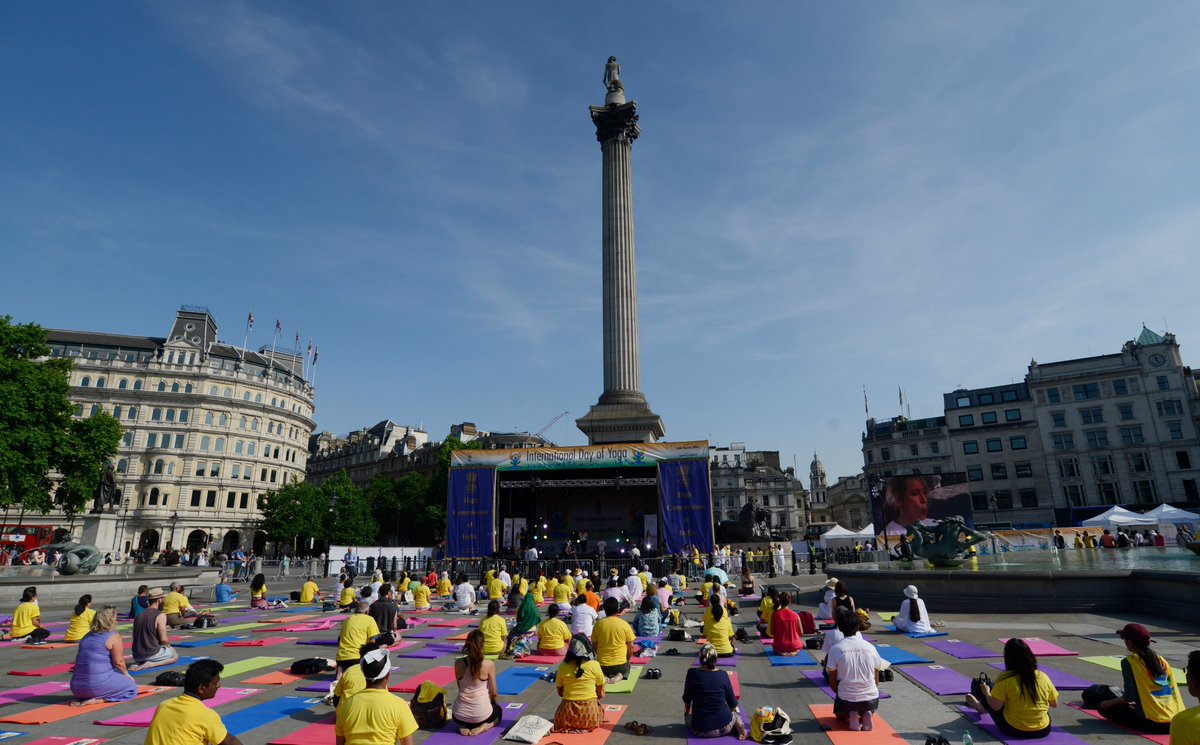 photos of celebrations at Trafalgar Square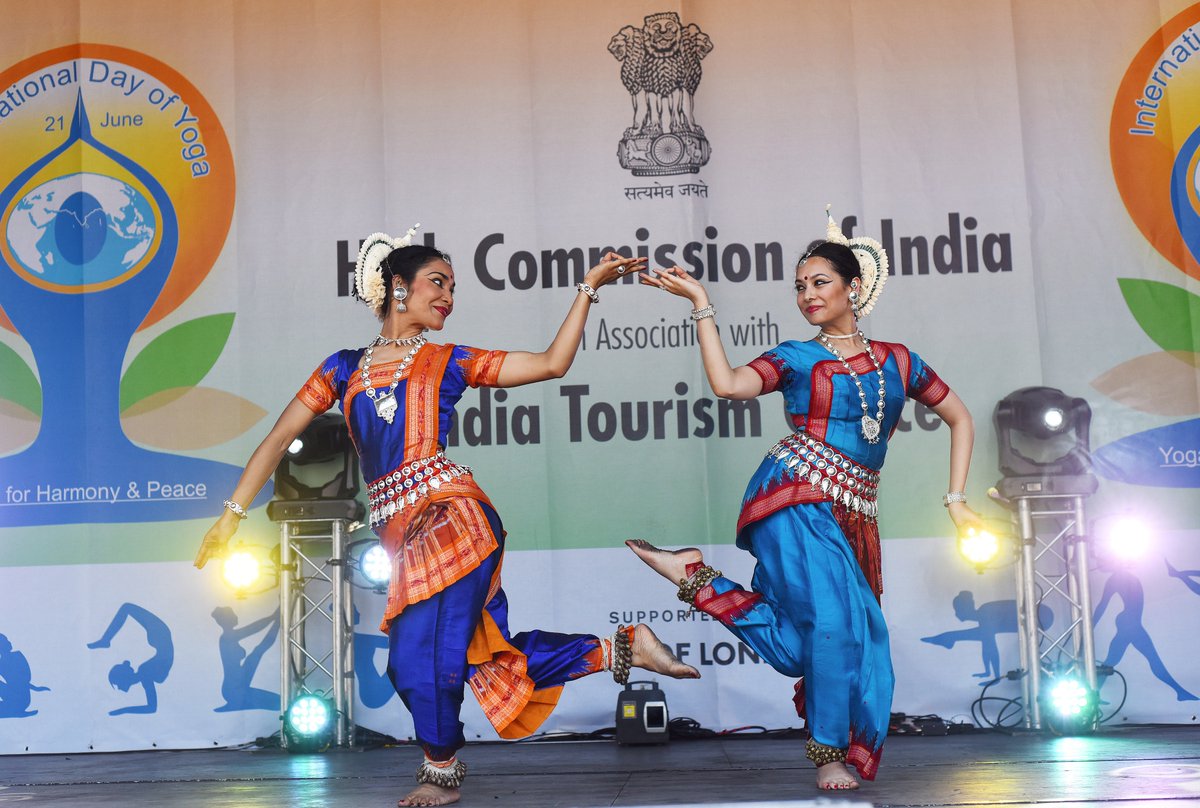 ---
Aurora Gatherings –
places for reconnecting with our authentic essence
Almost 3 years ago some 20 friends of Cygnus came together to explore what they needed most. Above all, they wanted to meet with others of "like-heart" in their neighbourhood to support each other's inner growth, regardless of beliefs and background.  It soon became clear that no existing groups or organisations offered what they were looking for, all seemed to have an agenda of some sort. They wanted  to be able to leave their beliefs and preconditioned thoughts at home and walk into the gatherings for heart to heart conversations. They were clear that having an agenda, with talks or prepared discussion topics, would interfere with their aim of  living in the moment, in the spirit of "Thy Will be done" and surrendering control to the Universal Spirit.
Frankly, Geoff Napier was surprised and doubted that many would be attracted to meetings without a subject, with no goal or preferred outcome. 
Nevertheless a trial meeting was arranged and, to his amazement it was a great success.  There are now about 90 local groups, most of them meeting without agendas, by choice.   They really treasure being with others, watching them grow inwardly, month by month. Geoff Napier is now supporting the non-structured groups under the name of Aurora Gatherings, whether or not they are associated with Cygnus. 
If you would like to find out more about Aurora Gatherings and whether there is a group nearby, contact him at:  Click here to send an email  or call 01285 762 982 for more info, for a growing list of groups visit: www.auroragatherings.com
---
OSA One Spirit Summit 2016
New Story – New Era: Responding together to the call of spirit, Saturday, 17th September
This was a wonderful event, inspiring for the substance that many contributors brought, uplifting for the company of the many like-minded participants attending and the many conversations and interactions that ensued, and enheartening for the generosity of all those who gave towards making the day possible, including especially the hosts, Brahma Kumaris, who provided facilities and delicious lunch and refreshments on a gifting basis. This enabled the One Spirit Alliance to do similarly for all those attending.
Download a transcript of Ursula King's talk: The Rise of the Spirit in an Evolutionary Universe
---
Fireside Gathering
'Cross Currents in Consciousness' – 5-6 December 2015
The weekend retreat at The Abbey in Sutton Courtenay in December was an inspiration and a treat. On Saturday the larger One Spirit Alliance grouping explored through sharing experiences, dialogue and creative work, steps we might take for further collaborative work together. Different themes were discussed in working groups. Especially impressive was the exercise we did together called 'take a petal', in which all participants put suggestions on coloured paper petals for themes and possible speakers for the OSA September 2016 conference as well as how our respective organisations could contribute. The collective sharing was then put together in the form of a flower (see photo).
Sunday was a quiet day for reflection, sharing and meditation, for which The Abbey was a perfect venue, complete with a cosy log fire crackling in the fireplace. It was jointly organised by the One Spirit Alliance and The Abbey. What the day brought home was that the endeavours to bring greater spiritual content to our lives and to society is not simply a matter of 'others' or 'organisations' but of individuals and individual destinies working together.
The second annual conference of
The Alister Hardy Religious Experience Research Centre
at the University of Wales Trinity Saint David
This took place on July 3 rd 2015 in the Founders' Library in Lampeter. The topic was the study of Angels. The aim of the day was to highlight how angels
are perceived in different traditions and how we study them in different academic approaches.
Science, Religion and Spirituality: Moving towards a Post-Materialist Paradigm?
This joint AHSSSE / SMN conference took place on Saturday 27th June 2015 in Oxford. Speakers were Prof. Bernard Carr and Revd. Prof. Jeff Astley.
The Manifesto for a Post-Materialist Science includes a reference to "…the need to take into consideration spiritual experience": how might current data and thinking contribute to change in the current materialist paradigm? The day will include a dialogue between the two speakers, with contribution from the floor.
Prof Bernard Carr is Professor in Mathematics and Astronomy at Queen Mary University of London, Vice-President of the SPR and Chair of the SMN.
Prof Jeff Astley is Honorary Professor in the Department of Theology and Religion, Durham University and a visiting professor at Glyndwr University and York St John University.
---
Shared Silence, Shared Vision, Shared Action
A Meditative Approach to Deepening our Connections
This event took place on the Saturday 15th April, 2015. Pictured above is Philip Marvin from the Study Society who hosted the morning along with Phillipa Blackham from the Brahma Kumaris and One Spirit Interfaith who hosted the afternoon session.
---
 Green Spirit

The Universe Story Event
The science from the origin of the Universe
to the present day – and its meaning ~
This was a collaborative day, supported by the One Spirit Alliance
---
What are the needs of our time – and
how can we best respond?
This One Spirit Alliance gathering in November 2014 at The Abbey, Sutton Courtenay explored the new challenges facing spiritual organisations in a fast-changing world and considered whether our current responses are adequate.
The aim of the day was to promote greater awareness and understanding between participating organisations. Sharing experiences and conversing on the key issues we all face is enriching and enlivening. This idea took the tangible form of an interconnecting hexagon pattern. Each organisation wrote their main intentions on one side of the hexagon and the name of the organisation on the other. Without knowing the identity of each organisation we were invited to situate our hexagon next to other hexagons of organisations who resonated with our own principles. This form created a dialogue of interconnection and support and is ever expanding
 I know that another world is possible. At times I can almost hear her breathing( Arudhati Roy)
 Sometimes people say we have to do more than preach to the choir but part of our work is helping the choir to find each other. There is a very beautiful song to be sung on this planet when we all connect our streams to one another , and the potential of the amplification for what can happen on this Earth is magnificent ( David Nicol .)
Spirituality is a state of connectedness to life. It is an experience of being, belonging and caring. It is sensitivity and compassion, joy and hope. It is the harmony between the innermost life and the outer life, or the life of the world and life universal.( U Thant. )
Sometimes people say we have to do more than preach to the choir but part of our work is helping the choir to find each other. There is a very beautiful song to be sung on this planet when we all connect our streams to one another , and the potential of the amplification for what can happen on this Earth is magnificent ( David Nicol .)
 Spirituality is a state of connectedness to life. It is an experience of being, belonging and caring. It is sensitivity and compassion, joy and hope. It is the harmony between the innermost life and the outer life, or the life of the world and life universal.( U Thant. )
---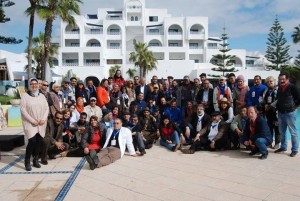 ---
The New Story Summit
 The New Story Hub is a resource centre for anyone interested in the huge transitional task we face as a global community. Inspired by the sold-out
New Story Summit at the Findhorn Foundation
, we hope this site will become a valuable resource for New Story Seekers worldwide and support the practical implementation of radical change. We invite you to participate and to help us accelerate our collective understanding of what might be, what is emerging and what must change, both in us and in the Human Story.
http://newstoryhub.com/
---
One Spirit Alliance Conference
'Spirit in Action'
28th June 2014

at Colet House, London
The day aimed to honour the unique contribution each individual and organisation has to make whilst recognising that by working together collaboratively we are all enriched and strengthened.
Speakers on the day were
Anthony Russell author of Evolving the spirit- from Democracy to Peace
Serge Beddington-Behrens author of Awakening the Universal Heart
---

 Metta
https://onespiritalliance.net/wp-content/uploads/2014/10/mettaoverview1.pdf
Towards an Age of Light
Perhaps the most significant symbol presaging a new Age of Light in human life is the laser.  It is no surprise that such a powerful tool has the potential for both creative and destructive uses, for light can blind as well as illuminate. As ever the responsibility for right use lies within human hands…….
What gives the laser its peculiar potency?  Everyone knows that the light from a laser is of only one colour and that this light can be projected as a very narrow beam.  What is probably less understood is that these two qualities are different aspects of the key characteristic namely coherence.  In simple terms this means that each individual waveform of light, each photon, is 'in step' with all others like soldiers marching in close formation.  This gives the light its extraordinary purity, intensity and power of projection.  An interesting analogy could be made with the mind of a trained mediator which can penetrate into previously unknown realms of consciousness.  Another analogy which is particularly instructive as we move into an age where group consciousness is increasingly the norm is between coherence and two of the principles identified by the esoteric philosophy as essential to our times, namely the principles of unanimity and essential divinity.
How do these principles operate in a group?  In the case of unanimity we could say that it is where a group is consciously striving to find the highest common point of agreement on a specific course of action.  This distinguishes from the much maligned 'groupthink' where people agree with whatever others think in order to minimise conflict.  Instead those striving for unanimity intend to seek the harmony that lies beyond conflict by critically assessing all ideas without attaching any importance to their source.  It is only by removing the strictly personal dimension that the underlying quality of ideas can be properly weighed and the resonance of the highest common point of agreement can begin to emerge, subtly building in strength as the group senses it with increasing clarity.  The principle of essential divinity works in a similar way as members of a group from different spiritual traditions gradually recognise the essential qualities of Spirit common to their specific faiths allowing them to participate in a shared approach to the source of all Light and Love however it is labelled.
Excerpt form World Goodwill Newsletter 2014.No2
NB  the United Nations has declared 2015 the International Year of Light.