Following are events we believe you may be interested in:
---
Quiet Days ~ Seeking Stillness
10th February, 7th April,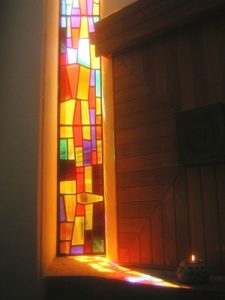 4th August, and 22nd September
at the Ammerdown Centre
Ammerdown's  Quiet Days offer an opportunity to take time out from our busy lives to pray, reflect and meditate with the help of Libby Dobson and Sarah Chabowska. There will be five days spread throughout the year, on the theme of 'Journey of the Heart –Seeking Stillness?'. Each day stands on its own or together they create a journey throughout the year.
For further information or to book you place either ring 01761 433709
or go http://ammerdown.org/Quiet-Day-Libby-Dobson-Sarah-Chabowska-2018
The Ammerdown Centre offers a variety of courses, for hospitality, spirituality and growth. A small sampling (click on links) –
Refreshing Day for Carers, 6th February, 3rd April
Meditation Mindfullness, day workshops or weekend retreats
Positive Thinking, 3rd March, led my Sue Glanville
---
HOLY ROOD HOUSE EVENTS
Upcoming day events at Holy Rood House in Thirsk, North Yorkshire
Trauma is not destined to define us
Saturday, 17th February 
A training day on trauma, entitled "Trauma is not destined to define us"; a Process response within a person centred framework led by trainer Ruth Player. Eligible for CPD. Click here for a PDF leaflet, which also gives the details of a further training day on 15th September, on "Psychotherapy, psychoeducation and neuroscience".
Recognising Children's Spirituality
Saturday, 17th March
in partnership with the Guild of Health and St Raphael
with Dr. Rebecca Nye
This Conference will be focusing upon "Recognising Children's Spirituality",  with a particular emphasis on the spirituality of children who are sick, which is the research Rebecca Nye is at present working with. Click here for a PDF leaflet.
For further information on events at Holy Rood House, see www.holyroodhouse.org.uk or telephone 01845 522580
---
The Feminine and the Seeds of the Future
A new series of public talks and one-day workshops on different aspects of the feminine
beginning February 2nd
at St. Ethelburga's, London
February 2, 6.30pm: Mac Macartney, The Feminine and the Seeds of the Future.
March 2, 6.30pm: Hilary Hart, Men, Women, Masculine, Feminine—Making Sense of the Two in the One
March 4, 10am – 5pm: Hilary Hart, One-day Workshop
April 6, 6.30pm: Pat McCabe, Indigenous Wisdom of the Feminine. 
April 8, 10am – 5pm: Pat McCabe, One-day Workshop.
May 4, 6.30pm: Samantha Whernam, Remona Aly, and Sahajatara Blake, Living the Feminine within our Faith Traditions: Christian, Muslim, and Buddhist Perspectives
June 1, 6.30pm: Justine Huxley and Ruth Scott, Darkness, Imperfection, and the Feminine
For more information and to book, visit https://workingwithoneness.org/the-feminine-and-seeds-future/
---
Spiritual Ecology Youth Leadership Programme 2018
St. Ethelburga's are very excited to announce a new intake for their Spiritual Ecology Youth Leadership Programme, starting in February 2018. It's getting close, but there should still be spaces. Contact us soon. Click on the link below for more information.
The Spiritual Ecology Youth Leadership Programme is an eight month part time course for 20-32 year olds from different faith and spiritual traditions, based in the UK and Europe. The Programme is about integrating universal spiritual values as the foundation of our response to the ecological crisis, and putting the worldview and principles of spiritual ecology into action.
For regular news and updates on our spiritual ecology work, please follow us on Facebook!
Amrita and Justine, St. Ethelburga's
Click here for more information on the Spiritual Ecology Youth Leadership Programme 2018
or write to justine.huxley@stethelburgas.org
St. Ethelburga's also runs many other courses, with an exciting programme planned for 2018. Click on the link above also for information on these, including Youth Hub events, workshops for training trainers, and other projects and events.
---
HOLLAND HOUSE EVENTS
Yoga in Lent
February 20th – 22nd 2018
Whether you're a Christian who already goes to a yoga class, have an interest in how yoga can support your faith, or would simply like to experience yoga within a Christian framework, this short Lent retreat will interest you.
Revd Ian Spencer will introduce Yoga as a practice Christians can use to deeply connect with faith, working with body practice, breath, and meditation to explore the Lenten season. Biblical scripture, chanting and times of silence and stillness are combined to create three days of a very special Lenten practice.
For further information, download the PDF flyer.
To book : 01386 860330 or email reservations@hollandhouse.org
or on-line at www.hollandhouse.org
---
TONALIS EVENTS
led by

Michael Deason-Barrow
Song of the Earth:
Sing glorious sacred musics from around the world;
Open ears and hearts to new experiences of divine presence
24-25 February
Mildenhall Village Hall, nr Marlborough, Wilts
Learn how to transform performance anxiety:
Discover new ways to transcend the barriers that block the joy of sharing music with others
3-4 March
The Field Centre, Nailsworth, Glos.
SING FREEDOM –
A new holistic vision of singing for 21st century singers
Go deeper into the mysteries of singing.
A new singing training, 12 days over 5 weekends.
Beginning Easter or Summer holidays.
Please inquire.

for more information and for booking:
tel: 01666-890460    info@tonalismusic.co.uk
www.tonalismusic.co.uk
---
LIVING SPIRITUALITY CONNECTIONS
Working with Emergence
Saturday, 3rd March
at Winchester University
The second event in a series, in partnership with The Institute for Theological Partnerships at Winchester University and Spirit of Peace, will explore the theme of working with emergent process and address the question
'What is the quality of intelligence that is necessary to move things in the direction of a greater flourishing for all?'
---
SOIL: GROUND OF EXISTENCE


Encountering the Science, Art and Sacredness of Soil

15-17 March 2018
at Emerson College
Three days of engaging practical activities, presentations, art and contemplation; each day can be booked separately:
Thursday – The Science of Soil; Friday – The Art of Soil; Saturday – The Sacrednessof Soil
For further information and for registration, click here.
---
SOIL, SOUL AND SOCIETY
An evening talk by peace and environment activist and author Satish Kumar
16 March, 8pm
at Emerson College
As part of the Soil: Ground of Existence event above, you may book separately for this Friday Evening talk by Satish Kumar as he discusses 'Soil, Soul & Society' ~ 'A New Trinity For Our Time.'
For more information on this talk and to book, click here.
Emerson College runs a variety of courses, with the orientation of bringing spirituality and practical spiritual insight into all areas of activity. For their events page, go to http://www.emerson.org.uk/events-at-emerson
---
WORLD CONGRESS OF FAITHS
Spirituality, dialogue and action:
new thinking for an interfaith society
Wednesday 21 March 2018
Focolare Centre for Unity, Welwyn Garden City
Click here to download a PDF flyer with more information
Enquiries: jenny@worldfaiths.org   tel: 01223 781781
www.worldfaiths.org
---
Easter Reclaimed
29th March – 1st April
at Emerson College, East Sussex
You are invited to join the Cosmic Holy Week group in spending Holy Week together, exploring the meaning of the Gospel story and how we understand it today in the context of the Universe story, and in the light of the visions of Teilhard de Chardin, Matthew Fox, Thomas Berry and Brian Swimme.
We endeavour to celebrate each day in ritual, music and words, in a creative group experience in which all contributions are welcome.
We will meet in Emerson College near East Grinstead, direct train from Victoria then short distance by bus or taxi.
Early booking is advisable.
The group will run from early afternoon on Maundy Thursday till after lunch on Easter Sunday. The facilitator will be Mary Jo Radcliffe.
For further details, on costs and booking, contact:  Mary Jo Radcliffe  email   maryjoradcliffe@icloud.com   Telephone:   0207 223 2917
---
HAWKWOOD COLLEGE EVENTS
20th-22nd April
Andrew Harvey will present his vision of Rumi, not only as the world's greatest mystical poet but as an indispensable force of illumination, peace, passion, and radiant divine energy for our time.
Public talk on Friday evening, 20th April.
27th – 29th May
In this 2-day workshop you will develop a deeper relationship with your consciousness to diagnose causes of physical, emotional, mental weaknesses and co-create with it for optimal health. Find and dissolve energy blocks, negative thinking and unhelpful genetic and ancestral patterns. Practice meditation to create harmony throughout your whole system and learn how self-healing leads to healing of others and the Earth.
Public talk Sunday evening, 27th May, A Journey to Consciousness: The Dark Night of the Soul in your personal life and that of the Earth
For more information and to book these courses, click on the title links above. For information about Hawkwood and other courses, visit www.hawkwoodcollege.co.uk or call 01453-759034
---
Fifth International Conference of the
British Association for the Study of Spirituality (BASS):
Forgiveness and Reconciliation in Health, Medicine and Social Sciences
Thursday 17 May – Saturday 19 May 2018
Coventry University, Coventry, England, UK
In an exciting new collaboration, the 2018 BASS International Conference will be a joint venture with the European Conference on Religion, Spirituality and Health (ECRSH). The conference will offer an important opportunity to explore the spirituality of forgiveness and reconciliation in the many contexts in which it is encountered.
You are warmly invited to participate in this biennial gathering of researchers, scholars and practitioners from many nations, and to submit abstracts for oral presentations, symposia or posters on related topics in your own academic or professional context. Deadline for the submission of abstracts is 31 October 2017.
For more information, go to http://www.basspirituality.org.uk/news/current-news/conference-announcement-2018-forgiveness-and-reconciliation-in-health-medicine-and-social-sciences/
---
TINTAGEL HOUSE – SHEFFIELD STEINER GROUP EVENTS

ANGELS:
Their significance today
Saturday, 16 June
Freeman College in Sheffield

Three perspectives given by Mark Vernon, philosopher, psychotherapist, former priest and Anglican;  Marianne Rankin, of the Alister Hardy Trust. Writer and researcher of contemporary spiritual experiences; and Siobhan Porter, Christian Community priest.
Awareness of angels, which are common to all religions, gradually faded out in the West. Now more and more people have direct experiences, or at least intuitive feelings, of non-physical presences which they call 'angels', – often in times of distress. Are there different kinds of angels? How do contemporary accounts of them relate to the traditional teachings? Can we nurture a relationship to them? These and many other questions will be explored  in a day of talks, conversations and shared experiences, with live musical interludes..
Please visit these websites for further information:-  www.markvernon.com       www.studyspiritualexperiences.org    www.thechristiancommunity.co.uk
to reserve a place:
Contact Robert Chamberlain,  robertchamberlain43@outlook.com
Some other events at Tintagel House / Freeman College:
3rd March: THE ROMANTIC SPIRIT. Exploring the spiritual relevance today of some English and German Romantic poets (translated), including Blake, Wordsworth, Coleridge, Keats, Shelley, Goethe, Schiller, the Schlegels, and Novalis. No previous knowledge required. Talks, recitations and discussions with Christopher Hudson.
27th-28th April: WHAT KIND OF SOCIETY DO WE WANT AND HOW DO WE GET THERE? A radical re-envisioning of society with practical solutions. Talks, questions and discussions and small group  conversations. With seven experienced practitioners.
Download a full 2017-18 Programme  for Tintagel House – Sheffield Steiner Group
or for further information visit their website:  www.sheffieldsteinergroup.org.uk
---
Meditate for Unity 2018
21st to 28th July
a non-stop 7day akhanda meditation practice for unity
Participating groups and individuals choose a 30min slot/s in the meditate for unity calendar. It does not matter where you are in the world or the nature of your faith or tradition. All that is required is committing to meditate for unity in your chosen slot. A website containing an interactive calendar will go live on the 1st February 2018.
Devotional music that make up some of the faiths involved in this practice will be celebrated at Poulstone Retreat Centre on the full moon evening of the 30th July. There will be Kirtan, Sikh gurbani, Sufi qawwali, Christian and Buddhist chant.
This is the third year in which Malvern Bhavan will be organising the meditate for unity 7day akhanda practice. One Spirit Alliance is working with Rajesh Rai at Poulston Court to support and help promote this event.
For further information, contact rajesh.rai@malvernbhavan.com, visit the Poulston Court website after 1st February, http://poulstone.com/home.html, or stay tuned to the OSA newsletters – we'll keep you updated!
---
The Future of Belief
A course with John Cottingham,
the Institute of Art and Ideas Academy
The Institute of Art and Ideas' new Academy course with Reading philosopher and theologian John Cottingham is now open for enrollment!
In this two-part course, Professor Cottingham makes a heartfelt case for the necessity and value of a broadly religious outlook. While celebrating the success and significance of science, he nevertheless shows us how atheism is a kind of scientistic hubris which leaves us bereft of meaning or purpose. With wide-ranging erudition and sensitivity, he draws on philosophy and literature to argue that moral, aesthetic and spiritual experience points to something beyond the merely physical — to the transcendent and the divine.
For more information, visit https://iai.tv/iai-academy/courses/info?course=the-future-of-belief
---
Click here if you wish to be included on an One Spirit Alliance e-mailing list for information on events, gatherings or other matters which may be of interest. Email address:  info@onespiritalliance.net.
---
> Donations to One Spirit Alliance <



Donations are most welcome to enable One Spirit Alliance to support further activities, events and website development in aid of the vision and aims. You may make a donation by:
Sending a cheque, payable to One Spirit Alliance, posted to: OSA, 37 Chandos Road, Stroud  GL5 3QT, along with your address and telephone number.
Transferring money by BACs – send an email for details.
Pay pal or credit card – click on the donate button below. Please send a separate email to tell us about your donation.
Thank-you!!


---
Past events
See under Journal for a selection of past OSA or OSA co-sponsored events as well as some events from participating Co-Creator Organisations.
---
 The One Spirit Alliance Events Calender
For Co-Creating Organisations of the One Spirit Alliance, if you would like to feature your organisation's event on this page, send information to: info@onespiritalliance.net