What Covid Must Teach Us: Meeting viruses with fear or informed common sense
by Dr Thomas Hardtmuth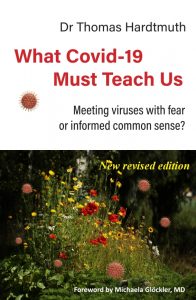 This is a new updated and enlarged edition, published, April 2022, of the extremely interesting informative book, What Covid-19 Can Teach Us,  is by Dr Thomas Hardtmuth, a German doctor and specialist.
It is often difficult to find articles let alone books on the topic which are taking a holistic evidence-based perspective. This is one of them. It considers the whole human being in body, soul and spirit and how the interplay of all these together contribute to our health or illness. But it also considers health and illness and the Corona virus in the broad consideration of ecology: how modern society in its materialistic paradigm is destroying the health of the environment just as we are destroying our own health, making us prone to both acute and chronic illnesses. Materialistic mainstream medicine searches for 'enemies' — here the virus — in much the same way that our material modern society and governments search for enemies; in so doing we create false dichotomies. Viruses have been an integral part of human evolution and life on earth, and from a medical and scientific perspective Hardtmuth delves into how this holistic and comprehensive view needs to be applied to Covid-19.
Hardtmuth's book contains a wealth of information on many facets of the current crisis, including:
– viruses in evolution and health as well as illness
– the immune system and its resilience
– the PCR tests
– risks and uses of vaccination
– adverse effect of fear and media's negative publicity on immunity and health
It's well worth the read!
More information is available at https://interactions360.org. The book is available online or at your local bookshop.