Newly published! – 
Awakening to a New Reality – 
Conscious Conversations across the Horizon of Death
by Janice Dolley, with Ursula Burton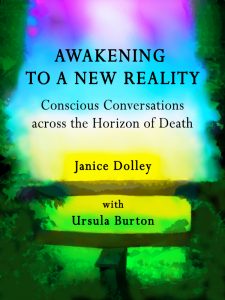 Awakening to a New Reality: Conscious Conversations across the Horizon of Death is the title of a newly published book by OSA  co-worker , Janice Dolley. These conversations are a personal example of what researchers are now calling 'After Death Communication' (ADC). Janice's best friend and previous co-author Ursula, Lady Burton, passed on in 1993. To Janice's surprise their new connection began only three hours after her death.
Whilst the key message in the book, of the continuity of consciousness, maybe new and hopefully comforting for some, for others, it is one of the many facets of our expanding awareness of a multi-dimensional reality. The reality that Ursula is experiencing is closer to what we are experiencing today than it was twenty-five years ago. The book also includes a useful section on Possible Next steps, to help guide those who are looking for new resources and connections as steppingstones for the new narrative for our time.
For those of us clearly seeking to embody the new within ourselves, there are also messages that might give all of us signposts to something more. One is the reality and the power of positive thought; the first thing Ursula said in their initial conversation was 'I can see thought; I can see what you are thinking.' Our thoughts are energetic entities as real in another dimension as our words are in this one. Another message is the often-repeated importance of our individual transformational journey from 'ego to essence' which needs to accompany our own work for a better world.
Ursula also stresses the importance of consciously co-creating. Her message was 'If you teach nothing else for the rest of your life – do teach people to co-create. This is the next evolutionary stage – co-creating between the dimensions.'
The book may be ordered direct from Sleepy Lion Publishing – click here  or through Amazon or other retailers.