Following are events we believe you may be interested in:
---
'Why are we here?'
A small group to be held from September 2017
at 97 Altenburg Gardens, London  SW11 1JQ
from 11.00 – 3.30
Next meeting 18th November – limited spaces: please contact
(contact Mary at address below)
Facilitator, Mary Jo Radcliffe.
For further information contact the Facilitator, Mary Jo Radcliffe:
Email maryjoradcliffe@icloud.com
Or phone 0207 223 2917 (usually free after 7.0 pm)
---
Spiritual Ecology Youth Leadership Programme 2018
St. Ethelburga's are very excited to announce that they are now recruiting for the second year of their Spiritual Ecology Youth Leadership Programme, starting in February 2018. Click on the link below for more information and to apply.
The Spiritual Ecology Youth Leadership Programme is an eight month part time course for 20-32 year olds from different faith and spiritual traditions, based in the UK and Europe.
The Programme is about integrating universal spiritual values as the foundation of our response to the ecological crisis, and putting the worldview and principles of spiritual ecology into action.
You will have the opportunity to design and pilot your own community project and develop a long term vision to sow the seeds for a future based on values of interconnectedness, reverence for nature, compassion, service and stewardship.
We are looking for ten emerging leaders from diverse backgrounds and faith or spiritual traditions to participate.
Last year's programme had a remarkable group of young people, and we're seeking another awesome ten to participate next year.  Learn more about last year's cohort and their projects here!
For more information and to apply, please visit our webpage:
Finally, we have some public events exploring these themes on the horizon open to all – including our workshop "Spiritual Ecology: New principles for addressing the ecological crisis". (details by clicking link below).
For regular news and updates on our spiritual ecology work, please follow us on Facebook!
Amrita and Justine, St. Ethelburga's
Click here for more information on the Spiritual Ecology Youth Leadership Programme 2018

---
ART – A BRIDGE BETWEEN NATURE AND SCIENCE
A talk accompanied by live harp music, followed by conversation.
Saturday 21st October 10am-12.30pm
Freeman College, Sheffield

We are surrounded by nature and we are a conscious part of its creative dance. Science arose to explain its laws. A space however is open for us to create 'a higher nature' which can be apparent to those who see nature's intentions. Here lies the source of the arts – which may be as necessary to the world as air and water. Given by John Dalton, professional Celtic harpist and educator.
BOOKINGS. Please book the weekend events at least a week before.
Contact Robert Chamberlain,  robertchamberlain43@outlook.com
Visit our website:  www.sheffieldsteinergroup.org.uk
---
Form and Harmony in Cosmos and Life
A three-and-a-half-day workshop led by Harmut Warm
24-27 October 2017
at Emerson College
Emerson College welcomes Hartmut Warm and Gregers Brinch in the last week of October 2017. Harmut will be presenting his uniquely insightful awareness of the cyclic movements of our Earth and the accompanying planets of our solar system in relation to one another. For example, the image above has been calculated by Hartmut to make visible the relative movements of Venus, Mars and Neptune over a period of 357 years.
Hartmut will be collaborating in this three-and-a-half-day workshop with the composer Gregers Brinch, who will guide experiences of music through singing, sounding strings and listening, Daniel Docherty, who will introduce hands-on geometrical exercises, and Philip Kilner, who will explore phenomena of rhythm and fluidity in relation to their organic and cosmic counterparts.
For further information on this and other courses at Emerson, click here.
---
Music and Spirituality Study Day
Friday 10th November 2017, 10am – 4:30pm
The Tavener Centre at the University of Winchester
We live in a culture filled with music. Many of the former certainties of traditional religions have slipped away but there is a search for the spiritual. Diverse approaches to the spiritual in music are situated within the great faiths and in various spiritualties. The conference will consider a broad range of theory, practice, scholarship and research at the interface of theology, spirituality, and music with a core emphasis on how music and spirituality can contribute to a richer understanding of the complexity of life and culture with particular reference to the work of John Tavener.
The Study Day:
Appreciates and critiques diverse views
Encourages a rich, multi-layered understanding of the spirituality of music
Probes interactions between spirituality and music in theory, practice and performance
Engages multiple perspectives from theology, anthropology, liturgy, the social sciences, education, and the creative and performing arts
We welcome participants from a variety of backgrounds. This exciting day promises to be a challenging and rewarding experience for both academic and non-academic attendees, tickets are available at a cost of £35.
The Study Day will run from 10am – 4.30pm and you are welcome to attend a Special Tavener Evensong in Winchester Cathedral after the event which will take place 5.30pm-6:30pm.
To book, please visit:
http://store.winchester.ac.uk/conferences-and-events/tavener-centre/events/tavener-centre-study-day-2017
---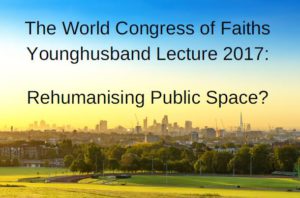 Rehumanising Public Space
Thursday 16 November 2017
Montagu Centre
21 Maple Street, London W1T 4BE
With Professor Chris Baker and Rabbi Professor Tony Bayfield
18:30: Registration & refreshments, 19:00 – 20:30: Lecture and responses
Can a renewed interest in religion, belief and spirituality contribute to political and civic regeneration? Are we living in a postsecular society or an age of radical new ethics? And where is the modern 'public square'?
To book your place:  www.wcf-yhl2017.eventbrite.co.uk
Enquiries Email: jenny@worldfaiths.org     Tel: 01223 781781
---
Just this Day
Wednesday, November 22rd, 2017
8:30 – 12:00
at St. Martin in the Fields, Trafalgar Square, London  WC2N 4JH
Just this Day is an annual day when you are invited to join others in meditation, putting your differences aside in the belief that doing this will bring peace and harmony closer.
For more information, go to http://www.justthisday.org/
---
Toward Human Flourishing
Presented by
The Institute for Theological Partnerships in association
with Living Spirituality Connections and Spirit of Peace
SATURDAY 25TH NOVEMBER
10.30 am to 5.30 pm
West Downs Campus, University of Winchester
Suggested donation payable on the day £15
In the face of growing divisions in society – politically, socially and
economically, we invite you to come and explore:
What do human beings need to flourish?
How do we create a culture of human flourishing for all?
What is the relationship between human and planetary flourishing?
Keynote speaker: Diarmuid O'Murchu, on the theme 'Human Flourishing: A New Evolutionary Threshold'
For more information and to book your place please contact brenda.sharp@winchester.ac.uk
---
Poetry and prophesy from the deep lands
with Caitlin and John Matthews,
at Hawkwood College, Stroud
1-3 December
Every country has its voices who speak for the spirit of the land. Britain and Ireland have their own tutelary goddess, appearing in many forms to inspire and guide: Cailleach, Queen of the Wood, Scotia, Britannia. Those poets most tuned to her voice address us prophetically from their communion with the land. Our exploration, including poetry of David Jones, Charles Williams and W.B.Yeats, transcends national and political divides, speaking from the deep land of our common heritage. We invite you to our magical 32nd Mystery School, where the way to the deep lands opens through myth, meditation, ritual and poetry.
Bookings and information: http://www.hawkwoodcollege.co.uk/courses-and-events/spirituality/voices-of-the-goddess—caitlin-and-john-matthews
---
Fifth International Conference of the
British Association for the Study of Spirituality (BASS):
Forgiveness and Reconciliation in Health, Medicine and Social Sciences
Thursday 17 May – Saturday 19 May 2018
Coventry University, Coventry, England, UK
In an exciting new collaboration, the 2018 BASS International Conference will be a joint venture with the European Conference on Religion, Spirituality and Health (ECRSH). The conference will offer an important opportunity to explore the spirituality of forgiveness and reconciliation in the many contexts in which it is encountered.
You are warmly invited to participate in this biennial gathering of researchers, scholars and practitioners from many nations, and to submit abstracts for oral presentations, symposia or posters on related topics in your own academic or professional context. Deadline for the submission of abstracts is 31 October 2017.
For more information, go to http://www.basspirituality.org.uk/news/current-news/conference-announcement-2018-forgiveness-and-reconciliation-in-health-medicine-and-social-sciences/
---
Click here if you wish to be included on an One Spirit Alliance e-mailing list for information on events, gatherings or other matters which may be of interest. Email address:  info@onespiritalliance.net.
---
> Donations to One Spirit Alliance <



Donations are most welcome to enable One Spirit Alliance to support further activities, events and website development in aid of the vision and aims. You may make a donation by:
Sending a cheque, payable to One Spirit Alliance, posted to: OSA, 37 Chandos Road, Stroud  GL5 3QT, along with your address and telephone number.
Transferring money by BACs – send an email for details.
Pay pal or credit card – click on the donate button below. Please send a separate email to tell us about your donation.
Thank-you!!


---
Past events
See under Journal for a selection of past OSA or OSA co-sponsored events as well as some events from participating Co-Creator Organisations.
---
 The One Spirit Alliance Events Calender
For Co-Creating Organisations of the One Spirit Alliance, if you would like to feature your organisation's event on this page, send information to: info@onespiritalliance.net